Amid Reform Talk, Zakir Almatov, At Center Of Andijon Bloodshed, Is Back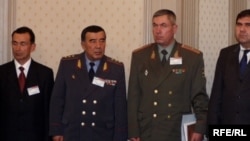 In a surprise move, Zakir Almatov has returned to Uzbekistan's Interior Ministry after more than 12 years.
Perhaps more than any other Uzbek official, Almatov's name is linked with the violent events -- some say massacre -- that took place in Uzbekistan's eastern city of Andijon on May 13, 2005.

He left his post as interior minister at the end of 2005, citing health reasons, and had largely faded from memory.
But on February 27, the now-68-year-old Almatov reappeared in the newly created post of adviser to the interior minister, who since September has been Pulat Bobojonov.
The move is surprising because President Shavkat Mirziyoev, who has been Uzbekistan's leader since September 2016, has been working to suggest the country is moving away from the often disastrous policies and legacy of his predecessor, Islam Karimov.
But now Mirziyoev has brought back one of the most controversial figures from the darkest days of independent Uzbek history.
Almatov was appointed interior minister shortly after Uzbekistan became independent in late 1991 and remained there until late 2005.
He was one of the most powerful people in the country before the bloodshed in Andijon.
On the morning of May 13, 2005, a peaceful protest that had been in progress for a week by locals in Andijon who were demanding that detained local business leaders be freed was hijacked by escaped prisoners and an armed group that crossed into Uzbekistan from Kyrgyzstan in the early hours of the night.
The new arrivals turned the demonstration into an insurrection. Government buildings were seized, officials and police were taken hostage, and some were executed.
As interior minister, Almatov led the negotiations with the leaders of the armed group. Almatov was said to have offered the leaders of the group safe passage out of Uzbekistan, but the talks went nowhere.
In the late afternoon, Uzbek troops, many of them Interior Ministry forces, entered Andijon from all sides of the city and started firing on the crowd.
The vast majority of people on the streets of Andijon at the time were peaceful protesters or locals, but the troops appear to have made no distinction. Officially, 187 people were killed, but accounts from eyewitnesses suggest the number was several times higher, many of them unarmed civilians.
There was broad international condemnation of the violence in Andijon and calls for an international investigation. But, backed by Russia and China, Uzbekistan resisted and subsequently curbed many of its ties with Western governments and organizations.

Almatov stepped down from his post several months later, citing health reasons. He was genuinely ill and required medical treatment, which he found in Germany despite being on an EU travel ban for his role in the Andijon violence.
And Andijon was not the only violent incident in Uzbekistan involving Almatov.
Shortly after independence, in January 1992, Almatov had helped put down the "student riots" in Tashkent that began over cuts to stipends but which grew into a large, but not violent, protest.
Officially, two students were killed. Again, witnesses suggested the figure could have been above 200.

Mirziyoev has been increasingly critical of alleged abuses by officials under Karimov.
Many of the high and mighty under Karimov have been cast out publicly by Mirziyoev in recent months in what the president portrays as a campaign against the corruption and avarice that festered among a chosen few while Karimov was in power.
That makes Almatov's return to Uzbekistan's Interior Ministry all the more strange.
Some believe Mirziyoev's ethics campaign is simply a cover for installing loyal cadres into key positions.
Almatov might now be counted among these loyal cadres. Mirziyoev was prime minister when the Andijon violence happened.
Almatov's return also contains a bit of irony.
After the Andijon bloodshed, the Uzbek government and Karimov rejected all criticism of the government's methods of restoring order in the city; but even so, Almatov's power was clearly weakened.

The head of the National Security Service (SNB), Rustam Inoyatov, appeared to be taking advantage of Almatov's situation, and some of the powers of the Interior Ministry were transferred to Inoyatov's security service. Those powers were recently transferred back to the Interior Ministry just prior to Inoyatov's dismissal as head of the SNB at the end of January.

The Interior Ministry once again appears to be the dominant internal security force in Uzbekistan, which arguably makes the reappearance of Almatov in the ministry even more disturbing.
RFE/RL's Uzbek Service contributed to this report. The views expressed in this blog post do not necessarily reflect the views of RFE/RL.
About This Blog
Qishloq Ovozi is a blog by RFE/RL Central Asia specialist Bruce Pannier that aims to look at the events that are shaping Central Asia and its respective countries, connect some of the dots to shed light on why those processes are occurring, and identify the agents of change. Content will draw on the extensive knowledge and contacts of RFE/RL's Central Asian services but also allow scholars in the West, particularly younger scholars who will be tomorrow's experts on the region, opportunities to share their views on the evolving situation at this Eurasian crossroad. The name means "Village Voice" in Uzbek. But don't be fooled, Qishloq Ovozi is about all of Central Asia.
Latest Podcasts