Uzbek Authorities To Purchase Ancient Manuscripts From Population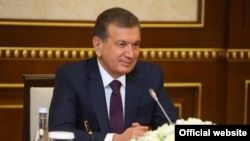 Uzbekistan's government is seeking to acquire ancient manuscripts that may be in the hands of citizens of the Central Asian county.
President Shavkat Mirziyaev has signed a resolution stating that the authorities will purchase ancient manuscripts from the population to enhance the collection at the Abu-Reyhan Beruni Oriental Institute's library in Tashkent.
The resolution says the government is prepared to "augment the collection of manuscripts and ancient written resources by...buying rare ancient manuscripts from the population."
The Abu-Reyhan Beruni Oriental Institute's trove of unique manuscripts is on a UNESCO World Heritage list.
Ancient manuscripts in Arabic, Persian, Old Turkic, and other languages are often kept by ordinary citizens as family treasures that have been handed down from generation to generation.
Backers of Mirziyaev, who came to power after longtime President Islam Karimov's death last year was announced in September, say he has taken steps to boost support for the country's education, history and culture.