Who Do Turkmen Authorities Think They Are Fooling?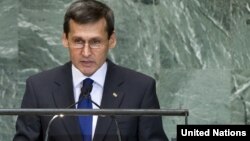 Turkmenistan's government seems to be a bit out of step with reality. More so than usual, I mean.
The Turkmen Foreign Ministry's sharp response to comments made by Kazakh President Nursultan Nazarbaev about a tense situation along the Turkmen-Afghan border was as surprising as it was unfounded. The situation in northwestern Afghanistan, just across the border with Turkmenistan, is bad and that cannot be denied.
Local officials in northern Afghanistan confirmed as much in comments to RFE/RL's Turkmen Service, known locally as Azatlyk. Speaking not far from the Turkmen border, these people said Turkmenistan should be worried.
On October 15, Nazarbaev mentioned tensions and incidents along Afghanistan's border with Tajikistan and Turkmenistan to the Russian newspaper Izvestia, and then he mentioned them again after meeting with Russian President Vladimir Putin in Astana.
Turkmenistan's Foreign Ministry released a statement to the media the same day that cited comments from "the Kazakh side [regarding] certain incidents that had allegedly happened on the border of Turkmenistan." It added: "The Turkmen side expresses its extreme incomprehension and concern at this statement by the Kazakhstan side which is irrelevant to the situation on the state border of Turkmenistan."
Turkmenistan noted "the official position of Turkmenistan on this issue has been presented on numerous occasions." It concluded: "With reference to the above-mentioned fact, the Turkmen side expresses its protest and, adhering to traditional brotherly relations between our countries, expresses the hope that the Kazakhstan side will use more relevant information in the future when assessing the situation in Turkmenistan."
There is an abundance of "relevant information" that suggests Nazarbaev was correct to express concerns.
There were many reports about militants from Afghanistan's Badghis Province crossing the Murghab River and killing three Turkmen border guards in February 2014 (including in Qishloq). In May of that year, militants crossed into Turkmenistan from Afghanistan's Faryab Province, and killed three Turkmen soldiers and stole their weapons. This was also widely reported and confirmed by people on the Afghan side of the border.
The Turkmen government did not say anything officially about these incidents.
But in May 2014, Turkmen Foreign Minister Rashid Meredov visited Kabul and, according to the Afghan president's website, "the deputy prime minister and foreign minister of Turkmenistan pointed to the deteriorating situation in the border areas, particularly the common borders in Faryab and Badghis..." The statement continues, "Meredov drew attention to the latest incident involving the border in which several Turkmen border guards were killed by criminals [and] asked the government of Afghanistan to investigate and bring the perpetrators to justice."
Since then, Afghan villagers near the Turkmen border have reported fences being built, ditches being dug, and new border posts going up on the Turkmen side of the border. The Turkmen military has amended conscription rules to boost troop strength, and in the past month there are reports of military hardware and additional troops being sent to the Afghan border area.
The commander of the U.S. Central Command (CENTCOM), General Lloyd Austin, told the House Appropriations Committee on March 5, 2015, "The Turkmen recently expressed a desire to acquire U.S. military equipment and technology to address threats to their security along their southern border with Afghanistan."
The same day the Kazakh president's remarks touched off the Turkmen Foreign Ministry's angry response Azatlyk spoke to the mayor of Hamyab village, in the Hamyab district of Afghanistan's Jowzjan Province. Hamyab borders Turkmenistan.
Hamyab's mayor said there has been fighting in his village since the start of October. He had to abandon the village and said militants had dismantled his office and carried away the windows and even bricks from the building. Other buildings in Hamyab have been burned down.
"For the last 14 days they [militants] have been attacking," the mayor, identified only as Ahmad, said, and he claimed the militants are in control of all the government buildings that are still standing in Hamyab village. Ahmad added the militants had also seized the Afghan border post looking across the river into Turkmenistan.
He said the government has been bringing in food and ammunition but has not been able to reinforce local militia forces with troops. "So far they have not fired toward Turkmenistan because they have been busy fighting us, but if they are able to overcome us then they might turn their attention to Turkmenistan," Ahmad stated.
On October 16, Azatlyk spoke with the chief of the Faryab provincial council, Sayed Abdul Baki Hashami. He said militants had been attacking in two districts for the last three days. Hashami said government forces sometimes carried out air raids but otherwise only local militia forces, the Arbaky, were battling the militants.
Hashami said police held some of the village of Gormach but "beyond the mayor's office there is nothing under government control, all of those areas are under Taliban control." (The Gormach district was captured by Taliban forces 48 hours after Hashami spoke with Azatlyk.) He said enemy forces were active in several districts of Faryab Province and added that among those enemy forces were "Turkmen from Turkmenistan and Afghan Turkmen inspired by them, and their numbers are growing."
Hashami said Turkmen from Turkmenistan have arrived in the province and joined Afghan Turkmen from the Qaysar, Dowletabad, and Andkhoi districts in Faryab, whom he claimed, "Now have their own brigade."
Turkmen authorities are accustomed to tight control of news about their country, at least when it comes to the domestic audience. So the shock of having a neighboring leader standing next to the Russian president and providing dire assessments of Turkmenistan's security situation perhaps, unsurprisingly, triggered an ill-advised, undiplomatic reaction from Ashgabat.
Kazakhstan's Foreign Ministry had its own response on October 16, after a CIS summit in Astana that day agreed the Afghan-Central Asian border was a potential flashpoint that required close attention.
"It is no secret that the situation in Afghanistan, namely in those regions bordering the countries of Central Asia, has been characterized recently by increased tension and a deepening of problems in the sphere of security," the statement said and added, "Only joint and coordinated actions of our governments in bilateral, and also in multilateral formats, permits effective and timely resistance to the threats to our common security."
Azatlyk director Muhammad Tahir contributed to this report
About This Blog
Qishloq Ovozi is a blog by RFE/RL Central Asia specialist Bruce Pannier that aims to look at the events that are shaping Central Asia and its respective countries, connect some of the dots to shed light on why those processes are occurring, and identify the agents of change. Content will draw on the extensive knowledge and contacts of RFE/RL's Central Asian services but also allow scholars in the West, particularly younger scholars who will be tomorrow's experts on the region, opportunities to share their views on the evolving situation at this Eurasian crossroad. The name means "Village Voice" in Uzbek. But don't be fooled, Qishloq Ovozi is about all of Central Asia.
Latest Podcasts