North Caucasus Federal District head Aleksandr Khloponin finally faced up to reality on February 21,
admitting
to senior Kabardino-Balkaria Republic (KBR) officials that "a small group of terrorists has managed to intimidate the whole republic."
The KBR authorities'
powerlessness to break the back
of the Kabardino-Balkar-Karachai jamaat of the North Caucasus Islamic insurgency was underscored yet again the very next day, when a local counterterror operation was launched in a mountain village to apprehend a group of between five and seven fighters who had reportedly opened fire on Interior Ministry personnel, killing one officer and injuring six more. That operation ended 24 hours later after it became clear the militants had
eluded capture
.
In future, however, the Kabardino-Balkaria-Karchai jamaat headed by Asker Jappuyev will have to contend with a second adversary in the shape of the "Black Hawks," a band of armed, masked, black-clad men who have vowed to kill Jappuyev, prominent commander Zakaria, and a third fighter, Astemir Mamishev, for having "brought shame upon their race" by killing innocent civilians and by aligning themselves with veteran Chechen commander Doku Umarov, self-styled head of the Islamic Caucasus Emirate.
Khloponin's February 21 visit to the KBR was occasioned by a
spate of attacks
over the previous few days, including the interception by militants late on February 18 of a group of Russian terrorists, three of whom they killed; the blowing up of a ski lift; and the killing of the mayor of the Nalchik suburb of Khasanya. The authorities retaliated by imposing counterterror restrictions on February 20 in the southwestern Elbrus district and parts of Baksan, which borders Elbrus to the east.
On February 22-23, police and security personnel launched an extensive search south of the mountain village of Bylym for a group of suspected militants, deploying artillery and military aviation, but failed to locate the fighters despite the snowy conditions and lack of forest cover for them to hide. Security personnel did, however,
discover a hideout
used by the insurgents that reportedly contained weapons, including a grenade launcher, food supplies, and police uniforms.
The success of the KBK jamaat since Jappuyev
took over as its commander
last spring following the death of Anzor Astemirov (nom de guerre Seyfullakh) is due to a combination of factors, above all the undoubted military competence, tactical imagination, and audacity of its fighters, who on occasion pose as police or security personnel; a well-developed intelligence network that enabled them to identify the Russian tourists they targeted and intercept the bus in which they were travelling; and the complicity of local officials and the population at large.
Village heads who were summoned to meet with Khloponin on February 21 were reportedly visibly unwilling to provide information about militants resident or operating on their territory. That complicity makes it possible, as one informed observer recently commented to this writer, for fighters to reconnoiter their intended victims' movements prior to gunning them down, and then return home after the killing to sit down and eat supper with their families.

New Third Force
How the emergence of a "third force" in the form of the Black Hawks will impact the current situation remains unclear, as does their identity. To date they have circulated two video clips. In the first, a single black-clad masked man questions the insurgents' claim to fight under the banner of Islam, affirming that by killing KBR mufti Anas Pshikhachev in December "you put yourselves beyond the law and beyond the law of Allah."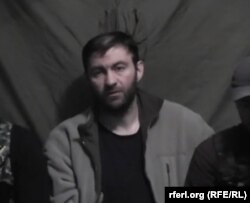 Asker Jappuyev in grab from video posted on October 23.
The speaker specifically criticizes the jamaat's allegiance to Umarov (a decision it attributes to Jappuyev), stressing that "it is unprecedented in the history of Kabardino-Balkaria to join forces with a Chechen."
He goes on to warn that "we shall exact revenge not just from you, but from your families." He tells Mamishev and Zakaria "your days are numbered, we are already on your tracks," and implicitly threatens to deprive Zakaria of the sight of his remaining eye. (He lost his right eye several years ago, reportedly when the car in which he was travelling blew up, killing his brother.) That threat effectively deprives the Black Hawks of any claim to the moral high ground, as does the fact that unlike jamaat leaders Jappuyev, Kazbek Tashuyev, and Zakaria, they wear masks to conceal their identity.
The
second video clip
, released earlier this week, features three black-clad masked men posing in front of the historic Circassian flag (seven gold stars and three crossed arrows on a green background). The speaker has a Kabardian accent, whereas the speaker in the first clip spoke impeccable Russian. His message echoes that of the first speaker in terms of threats of retribution and vowing that "we shall not let these bastards seize our lands and impose their precepts," but he also lambastes the republic's police and FSB as corrupt and cowardly.
In conclusion, the unidentified speaker affirms that "You call yourselves Muslims but you kill in the name of Allah and for money, we shall kill you for free so that the republic can live in peace … We shall see which of us Allah favors." That latter statement may have been intended as a response to Zakaria, who said in a
statement in late January
"[our] enemies are many, and they are everywhere. But if Allah was not on our side, there would not be a single mujahed left."
At present, the identity of the Back Hawks can only be guessed at. The fact that they pose in front of the historic Circassian flag, and the accent of the speaker in the second clip, suggests that they are Kabardians. The Black Hawks could thus be the armed wing of a rival Kabardian political faction that seeks to humiliate and eventually force the dismissal of Kanakov: their first public action was to toss Molotov cocktails into the yard of Mamishev's family home in direct defiance of Kanokov's pledge a few days earlier not to burn down the homes of militants' families.
Kanokov himself last summer attributed the upsurge in militant attacks to an unnamed political faction that
hoped to thwart his chances
of being reappointed to serve a second presidential term.
The Black Hawks' clear contempt for the police and FSB would seem to rule out the possibility that they are former police officers who resigned rather than risk being gunned down, and were recruited and answerable to former KBR Interior Minister Khachim Shogenov, who was wounded in May 2010 in a bombing for which Jappuyev
claimed responsibility
.
If the Black Hawks choose to promote exclusively Kabardian interests, their emergence could exacerbate even further tensions within the KBR between the majority Kabardians and the Balkars, who account for only 10-12 percent of the republic's total population of some 850,000. Already in 2009, speakers at a pro-Kanokov rally in Nalchik
inferred a blanket connection
between Balkar groups lobbying to defend their interests and the North Caucasus insurgency.
Jappuyev, the Kabardino-Balkar-Karachai jamaat commander, is a Balkar, and judging by the accents of the fighters who speak in the video clips posted to the jamaat's website, islamdin.com, Balkars appear to be a majority. But both Zakaria and Baksan sector commander Tashuyev (nom de guerre Abu Jabbar) are Kabardians.