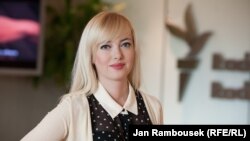 Radio Free Europe/Radio Liberty (RFE/RL) has welcomed a decision by the European Court of Human Rights (ECHR) on RFE/RL investigative reporter Natalia Sedletska's case.
The ECHR on September 18 ordered Ukraine's government to ensure that the authorities there do not access any data from Sedletska's cell phone.
In a statement on September 19, RFE/RL President Thomas Kent called the ECHR decision "fully justified."
The ECHR's decision "is about the rights of journalists to protect the confidentiality of their sources and the right of the society to get free information, without censorship," Kent said.
He called it "a clear signal that persecution of journalists and interference with their work has nothing to do with international obligations of Ukraine to protect free press, which the Ukrainian government allegedly supports."
The ECHR order is an interim measure that gives Sedletska time to prepare a full complaint against a Ukrainian court ruling allowing investigators to review data from her cell phone. It remains in effect until October 18.
The ECHR pledged to consider her appeal "as a matter of priority."
RFE/RL said it "will provide the European Court will additional information and arguments in the defense" of the journalist.
On August 27, Kyiv's Pechersk District Court approved a request from the Prosecutor-General's Office to allow investigators to review all data from Sedletska's cell phone from July 1, 2016 through November 30, 2017.
The ruling stemmed from a criminal investigation into the alleged disclosure of state secrets to journalists in 2017 by Artem Sytnyk, director of the National Anticorruption Bureau of Ukraine.
Radio Free Europe/Radio Liberty spokeswoman Joanna Levison said earlier this month that the court's ruling is "inconsistent with Ukraine's own commitments to promote and protect a free press."
On September 18, a Ukrainian appeals court ruled to restrict the original request to geolocation data from around the offices of the National AntcCorruption Bureau of Ukraine in Kyiv, but upheld the original time frame.
Sedletska is the host of Schemes, an award-winning anticorruption television program by RFE/RL's Ukrainian Service and Ukrainian Public Television.
The Schemes program reported on several investigations involving senior Ukrainian officials, including Prosecutor-General Yuriy Lutsenko, during the period in question.
The United States, the European Union, and international media watchdogs have expressed concern over the Ukrainian court ruling.