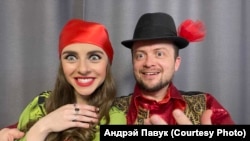 Police in Belarus have detained the parents of well-known opera singer and opposition activist Marharyta Lyauchuk and searched the home of the former wife of noted opposition blogger and singer Andrey Pavuk.
Lyauchuk, who is currently in self-imposed exile in Lithuania, told RFE/RL that her parents were detained on May 26 in Stradzech, the village where they live in the western Brest region.

According to Lyauchuk, a neighbor who was present when officers searched her parents' house told her that they were handcuffed and taken away by law enforcement officers.

Pro-government Telegram channels said the pair were detained for "disobeying police." In July last year, Belarusian authorities launched a criminal case against Lyauchuk, accusing her of "desecrating the country's national flag." The charge stemmed from a video placed on Lyauchuk's YouTube channel.

Separately, the home of Pavuk's former wife was searched by police on May 26.

Volha Pavuk, who is also currently out of the country, told RFE/RL that her neighbors in the southeastern town of Aktsyabrski informed her about the search. Officers told the neighbors that it was conducted due to "a criminal case launched against Andrey Pavuk."

Pavuk, his former wife, and their children left the country in the wake of anti-government protests questioning the official results of an August 2020 presidential vote that handed a sixth consecutive term in office to strongman Alyaksandr Lukashenka.

Pavuk was charged in absentia with publicly insulting a prosecutor and disclosing the personal data of a prosecutor's aide. He denies the charges.

Lyauchuk and Andrey Pavuk have held several joint singing sessions that were critical of Lukashenka and his government and placed them on YouTube.

Both have been added to the Belarusian Interior Ministry's registry of wanted persons.