Lukashenka: Belarus Must Agree To Russian Gas Prices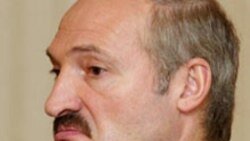 Minsk, 19 February 2004 (RFE/RL) -- Belarusian President Alyaksandr Lukashenko says his country must agree to Russian terms of gas supplies, but will demand an increase in transit prices for deliveries to Poland and Germany.
Lukashenka made the comments today at an emergency government meeting convened one day after Russia stopped supplying natural gas to Belarus. Russian companies say existing contracts have expired and want to raise rates from below-market levels.

Lukashenka described the suspension of gas supplies in winter as "an act of terrorism of the highest order." But he said Belarus must yield and pay $50 for 1,000 cubic meters of Russain natural gas, instead of $30.

But he said he now wants as much as Ukraine gets for Russian gas export transit to Europe. Lukashenka said Belarus now charges $0.50 for transit of 1,000 cubic meters of gas, while Ukraine recieves $1.09.