Ten Reported Dead In Kirkuk Car Bombing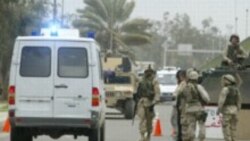 Kirkuk, Iraq; 23 February 2004 (RFE/RL) -- At least 10 people were reported killed and about 40 wounded in an apparent suicide car-bomb attack outside a police station in Iraq's northern city of Kirkuk today.
Iraqi officials say that most of the victims were policemen. They gathered in the morning at their station's building in a Kurdish populated area of the city to get their day's assignments as the bomb went off.

The explosion heavily damaged nearby buildings and destroyed cars.

This was the latest in a string of vehicle and suicide bombings to target Iraqi security forces. The attacks have killed more than 300 people, mostly Iraqis, this year. Kirkuk, located in an area rich with oil fields, is ethnically divided and tense.