Impeachment Hearing Set For Lithuanian President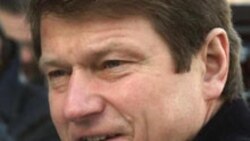 Vilnius, 1 March 2004 -- The speaker of Lithuania's parliament today said impeachment proceedings against President Rolandas Paksas are to begin next week on 8 March.
Paksas, who is fighting allegations of entanglement with the Russian mob, has said he would stand in fresh elections if the parliament "dares raise a hand" against him on charges that include exposing state secrets and violating his oath.

Speaker Arturas Paulauskas said the parliament would meet later this week to decide on procedures for the trial, and that the process would begin on 8 March under the chairmanship of the head of the supreme court, Vytautas Greicius.

In December last year 86 out of 141 lawmakers voted for impeachment. The same number would be needed to remove him from office.