Bremer Says Iraqi Constitution Signing Ceremony Still On For Today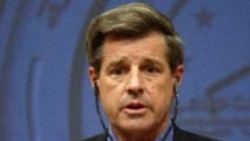 Baghdad, 8 March 2004 (RFE/RL) -- The U.S. civil administrator for Iraq, L. Paul Bremer, says members of the Iraqi Governing Council are proceeding with plans to sign an interim constitution today.
Bremer said while opening a women's center in Baghdad today that the signing will be a "major step" before the United States hands over power to Iraqis by 30 June.

Shi'ite Muslim members of the council said yesterday they planned to sign the document unchanged. The announcement came following talks in the holy city of Al-Najaf with clerics including the influential Grand Ayatollah Ali al-Sistani, who was reported to have concerns about the document relating to minority Kurds in Iraq's north.

The signing of the basic law was originally planned for last week but was postponed twice.

Up to 10 rockets were fired last night at the U.S.-led administration headquarters in Baghdad, near where the constitution is due to be signed, but there were no serious injuries.