UN Unveils Plan To Bring Peace To Kosovo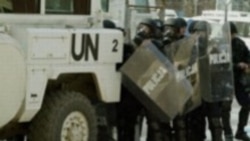 Pristina, 31 March 2004 (RFE/RL) -- The UN Mission in Kosovo today unveiled a plan aiming at bringing peace and stability to the ethnically divided province.
Harri Holkeri, head of the UN mission, said the document is "a detailed political plan clearly laying out activities and policies" to achieve the UN-set standards which are preconditions to talks on the final status of the province.

The plan envisages Kosovo as a place where "displaced persons are free to return without hindrance and where all, regardless of ethnicity, can safely travel and work."

The plan is being made public two weeks after the outbreak of ethnic violence left 28 dead and over 600 injured.