Bremer Says Latest Iraq Killings 'Won't Go Unpunished'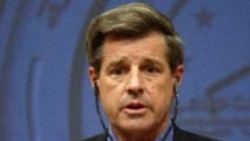 Baghdad, 1 April 2004 (RFE/RL) -- The top U.S. administrator in Iraq, L. Paul Bremer, today said that the killing of four civilian contractors and five U.S. troops yesterday "will not go unpunished."
Speaking to graduates from the Iraqi Police Academy, Bremer described the killings as "inexcusable and despicable," and said those killed "have not died in vain."

The vehicles of the four contractors were stopped by grenade explosions then strafed with rifle fire in Al-Fallujah, a Sunni Muslim-dominated town west of Baghdad. The victims were dismembered and mutilated by the crowd. Some of the burned bodies were dragged through the streets.

The five soldiers were killed when their vehicle ran over an explosive device, which blew their vehicle apart not far from Al-Fallujah.

The U.S. military has said that at least 48 U.S. soldiers died in Iraq during March.