Powell Says U.S. Intelligence On Iraq Mobile Labs Flawed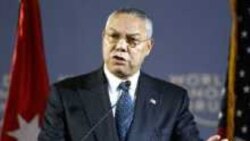 Colin Powell (file photo) Washington, 3 April 2004 (RFE/RL) -- U.S. Secretary of State Colin Powell has acknowledged that information he presented to the United Nations Security Council aimed at justifying the U.S.-led invasion of Iraq was not "solid."
In February 2003, before the Iraq war started in March that year, Powell made a presentation to the Security Council that included what he said was evidence showing the existence of mobile Iraqi chemical and biological weapons laboratories.

No such weapons development trailers or other weapons of mass destruction have been found in Iraq since President Saddam Hussein's regime was toppled. The alleged existence of Iraqi weapons of mass destruction was the major part of the Bush administration's argument for war.

Powell told reporters that the evidence he presented to the Security Council now appears not to have been dependable.

Powell said he hopes a U.S. commission investigating intelligence on Iraqi weapons will find out how the Central Intelligence Agency (CIA) ended up depending on unreliable sources for evidence he used to argue for the war.