Meciar, Gasparovic In Slovak Presidential Runoff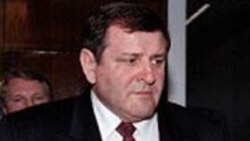 Bratislava, 4 April 2004 (RFE/RL) -- Former Prime Minister Vladimir Meciar was the surprising victor in yesterday's first round of voting in Slovakia's presidential election.
The Central Election Commission said Meciar won 32 percent of the vote, followed by Ivan Gasparovic -- a former close ally of Meciar -- with 22.3 percent.

Foreign Minister Eduard Kukan-- who led opinion polls leading up to yesterday's vote-- finished a very close third with 22.1 percent of the vote, delivering a defeat to Prime Minister Mikulas Dzurinda.

The two top voter getters --Meciar and Gasparovic -- will now face each other in a runoff vote on 17 April.