Alleged Tape By Al-Zarqawi Threatens Attacks In Iraq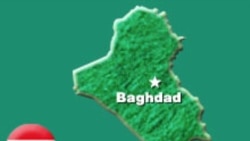 Dubai, 6 April 2004 (RFE/RL) -- A man claiming to be a senior Al-Qaeda figure today released an audiotape threatening more attacks against U.S.-led coalition forces in Iraq.
The audiotape appeared today on an Islamist website. The speaker introduced himself as Mus'ab al-Zarqawi, a Jordanian who is believed to be a close associate of Osama bin Laden.

The tape's authenticity could not be verified immediately.

Al-Zarqawi's whereabouts are not known but U.S. officials have said they believe he is in Iraq.

The tape appeared hours before a Jordanian court convicted Al-Zarqawi and seven other suspects in the assassination in 2002 of a U.S. aid official that was blamed on followers of bin Laden. Al-Zarqawi was sentenced to death in absentia.