Casualties Grow From Fighting In Iraqi Towns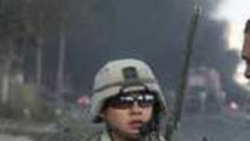 Al-Fallujah, Iraq; 7 April 2004 (RFE/RL) -- Reports say that more than 30 Iraqis were killed overnight during clashes between insurgents and coalition forces in the town of Al-Fallujah.
The U.S. forces have surrounded the town and are searching for those responsible for last week's murder of four American contractors.

In another Iraqi town, Ramadi, 12 U.S. soldiers were killed when Iraqi insurgents attacked their position near the governor's palace.

Heavy fighting was also reported in Al-Nasiriyah, a Shi'a town in the south and a stronghold of radical cleric Muqtada al-Sadr.

Meanwhile, White House spokesman Scott McClellan said President George W. Bush had declared U.S. resolve in Iraq is "unshakable."