Iraqi Interior Minister Resigns As Fighting Rages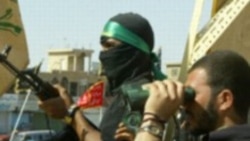 Al-Sadr's fighters Baghdad, 8 April 2004 (RFE/RL) -- Iraqi Interior Minister Nouri al-Badran today announced his resignation, saying he had heard the U.S.-led administration was unhappy with his performance and wants a different religious mix in the cabinet.
Al-Badran, a Shi'ite Muslim, told reporters he had been told the U.S.-led administration believes the defense minister and interior minister should not both be Shi'ite. A new defense minister's position was recently filled by a Shi'ite official.
There was no immediate comment from the U.S.-led administration. Al-Badran's announcement came as fighting continued in various cities in Iraq.
U.S. Lieutenant General Ricardo Sanchez says the Al-Mahdi Army, loyal to Shi'ite cleric Muqtada al-Sadr, has taken full control of the city of Al-Kut and partial control of Al-Najaf. But he vowed the U.S. coalition will not be deterred.
"Coalition military forces will conduct powerful, deliberate, very robust military operations until the job is done," he said. "We are committed and we will not be deterred. Let there be no doubt: We will continue the attacks until Sadr's influence is eliminated and Sadr's militia is no longer a threat to Iraq and its citizens."
Japanese officials are trying to confirm a claim by a group called "The Mujahedin Brigades" that it has three Japanese hostages, and will execute them if Japanese troops do not withdraw.
For more on the fighting around Iraq, see
U.S. May Send More Troops To Iraq As Fighting Continues