U.S.: Bush Dismisses Criticism He Did Not Do Enough To Prevent 2001 Attacks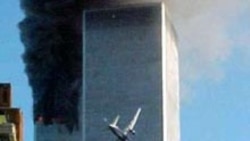 Prague, 12 April 2004 (RFE/RL) - U.S. President George W. Bush has dismissed criticism he did not do enough to try to prevent the 11 September 2001 terrorist attacks on New York and Washington.
Speaking to reporters yesterday, Bush defended himself against criticism that he failed to heed warnings in an intelligence memo issued a month before the attacks that terrorist hijackings were possible and that New York was a potential target.
"That PDB [Presidential Daily Briefing memo] said nothing about an attack on America. It talked about intentions, about somebody who hated America. Well, we knew that," Bush said.
The two-page memorandum -- titled "Bin Laden Determined to Strike in the U.S." -- was prepared by the Central Intelligence Agency (CIA) for a presidential briefing held 6 August 2001 -- five weeks before the attacks. The memo begins by saying, "clandestine, foreign government, and media reports indicate [Osama] Bin Laden since 1997 has wanted to conduct terrorist attacks in the U.S."
The memo does not state a specific attack is imminent but does warn of the possibility of hijackings and names New York as a potential site. The memo reads "FBI information...indicates patterns of suspicious activity in this country consistent with preparations for hijackings or other types of attacks, including recent surveillance of federal buildings in New York."
The 11 September 2001 attacks -- involving four separate hijackings by 19 terrorists -- were the worst ever on U.S. soil. Some 3,000 people were killed when two hijacked airliners collided with New York's twin World Trade Center towers and another airliner hit the Pentagon building near Washington. The attacks have been blamed on Osama bin Laden and the Al-Qaeda terrorist group.
Bush, yesterday, dismissed the memo as containing no new information and lacking in specific threats.
"I am satisfied that I never saw any intelligence that indicated there was going to be an attack on America, a time and a place of an attack. Of course we knew that America was hated by Osama bin Laden. I mean, that was obvious," Bush said.
The memo comes at a potentially embarrassing time for Bush, who faces a re-election vote in November. Opinion polls until now have consistently given the president favorable ratings on his handling of the terrorist threat.
The memo, however, suggests Bush and his administration underestimated the threat prior to the 9/11 attacks. It also calls into question Bush administration contentions that any specific terrorist threats it was aware of were aimed at targets outside the United States.
"That PDB [Presidential Daily Briefing memo] said nothing about an attack on America. It talked about intentions, about somebody who hated America. Well, we knew that."
The memorandum was released by the White House on 10 April at the request of a special bipartisan commission investigating the attacks. The commission is looking into whether the attacks in any way could have been prevented. It's due to release its findings later this year ahead of the election.
It's unclear what effect the memo and the commission's findings will have on the vote. Initial reactions appear to follow party lines.
A Democratic member of the special commission, former senator Bob Kerrey, wrote in "The New York Times" yesterday that he now believes the attacks could have been prevented. He said the CIA memo -- among other things -- provided Bush with enough of a warning to push harder for more intelligence information.
The Associated Press, quoting unnamed senior U.S. administration officials, reports Bush saw more than 40 mentions of the Al-Qaeda terrorist group in his daily intelligence updates in the months ahead of 11 September. One unnamed official cited by the AP, said the CIA prepared the document in response to questions asked by the president himself about the possibility of attacks by Al-Qaeda inside the United States.
Republican members of the commission appear to support the president.
James R. Thompson, a former state governor, is quoted as saying the CIA memo did not call for Bush to do anything. He said the memo's details merely confirm the Bush administration's position that it had no specific information regarding an imminent attack involving airplanes as missiles.