Armenia: Opposition Considers Next Move As Government Threatens Clampdown On Rallies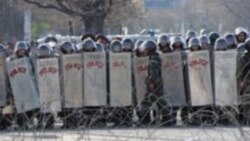 Police square up to opposition demonstrators Armenian law enforcement agencies have closed the offices of one opposition party and are pledging to enforce a ban on unauthorized rallies after forcibly breaking up antigovernment street protests early yesterday. At the same time, the ruling coalition is calling for dialogue with its rivals and authorities released all opposition lawmakers detained during the unrest. Several opposition activists are under arrest, however.
Prague, 14 April 2004 (RFE/RL) -- The situation remains calm today in the Armenian capital, Yerevan, 24 hours after police forcibly dispersed an opposition rally in the center of the city.

Authorities early today released three opposition lawmakers detained for their participation in antigovernment protests.

Shavarsh Kocharian (no relation to Armenian President Robert Kocharian) of the Justice (Artarutyun) alliance and Aleksan Karapetian of the National Unity Party had been detained during yesterday morning's unrest, which followed four days of rallies. Another Justice lawmaker, Arshak Sadoyan, had been taken to a police station a few hours later.

It is not immediately clear whether they will face any sanctions.

Also unclear is the fate of former Defense Minister Vagharshak Harutiunian and former Deputy Health Minister Artak Zeynalian. Both men were taken into police custody yesterday in connection with the unrest and have not reappeared since.

Meanwhile, police today continue to occupy the Yerevan headquarters of the Republic (Hanrapetutyun) party -- a radical opposition group that belongs to the Justice alliance --- denying access to both reporters and party members.

The offices of two other opposition groups -- Justice leader Stepan Demirchian's People's Party of Armenia and Artashes Geghamian's National Unity Party -- were searched by police yesterday. Several party members were detained.

RFE/RL's Armenian Service correspondent Karine Kalantarian reports that police confirm four opposition activists are under arrest and that another 19 are being questioned.

Commenting directly on the unrest for the first time, President Robert Kocharian today blamed opposition leaders for not being constructive or innovative.

"My impression is that if they continue like that, what we will soon witness is not a change of regime, but a change of opposition. And, indeed, perhaps we need new faces and new ideas in that field?" Kocharian said.

The Justice alliance and the National Unity Party are challenging the legitimacy of the head of state and the three parties in the coalition government, saying they rigged last year's presidential and legislative elections.

Citing a ruling by Armenia's Constitutional Court that suggested the possibility of a referendum, opposition parties are demanding that Kocharian's leadership be put to a vote of national confidence.

Talking to reporters yesterday after police disrupted his planned press conference, Demirchian blamed the Armenian president and his coalition partners for the overnight violence, calling it a "crime."

"It was a military operation, and the ruling coalition is also responsible [for what happened]," Demirchian said.

At about 02:00 local time yesterday, riot police charged up to 3,000 antigovernment demonstrators who had taken to the streets of Yerevan. The protesters were part of a larger march which, hours before, had been stopped in front of the parliament building by a cordon of security forces while marching toward Kocharian's office.

With the help of water cannons, blank grenades, and truncheons, helmeted police officers rapidly dispersed the opposition activists, spreading panic among the crowd.

Yerevan health officials say 16 people were hospitalized after the clashes. But nongovernmental media speculate that many injured protesters may have avoided hospitalization for fear of police reprisals.

Four Armenian journalists -- including a cameraman for the Russian ORT state television channel -- suffered various injuries.

Regional and Western media freedom watchdogs are condemning the police action as heavy-handed and demanding that law enforcement officers responsible for injuring the journalists be punished.

The Interior Ministry refutes opposition claims that the demonstration -- on the city's Marshal Baghramian Avenue -- was peaceful. The ministry says members of the opposition assaulted police officers and that the protesters had been warned to disperse or face "adequate reaction."

In a statement read on state-controlled television, presidential spokesman Ashot Kocharian (no relation to the president) also justified the police action.

"In view of the situation, law enforcement officers had to preserve public order within the framework of the law. The police intervention was decided after the opposition had, by its actions, disrupted the normal functioning of both the parliament and the president's office, thus threatening constitutional order in the country," Kocharian said.

The presidential communique warned protesters against committing acts of "political extremism."

Leaders of the parliamentary majority and the three ruling coalition partners -- the Republican Party, the Dashnaktsutyun Armenian Revolutionary Federation, and the Rule of Law (Orinats Yerkir) party -- yesterday met with President Kocharian to discuss the ongoing political standoff.

In comments made to reporters after the meeting, Dashnaktsutyun Deputy Parliament Speaker Vahan Hovanessian criticized the opposition for "making radical demands and overestimating its own forces."

Hovanessian, however, offered to open dialogue with the opposition in a bid to avert violence. Republican Party Deputy Chairman Tigran Torosian, in turn, quoted President Kocharian as saying he would welcome any steps that could avoid political confrontation.

Reports that coalition representatives met today with National Unity Party Chairman Geghamian to secure a truce could not be immediately confirmed.

In statements issued today, the secretary-general of the Council of Europe, Walter Schwimmer, and the president of the Council of Europe's Parliamentary Assembly, Peter Schieder, expressed concern about the recent "violence" in Armenia. They also said the arrests of lawmakers and the ill treatment of the media in a member country were "unacceptable."

Other international organizations and foreign governments have offered mixed assessments of this week's unrest.

In an interview with RFE/RL's Armenian Service yesterday, Ambassador Vladimir Pryakhin of the Organization for Security and Cooperation in Europe suggested that both protesters and law enforcement agencies were to blame.

"We don't share the opinion that the demonstration was purely peaceful because all sorts of provocative statements were being made and stones were being thrown [at police forces]. But that's not the point. We are against any kind of violence, and we conveyed our concerns in this regard personally to [President Kocharian]," Pryakhin said.

Also yesterday, the United States criticized the detention of opposition activists and police raids on political party offices. Washington also expressed its concern at the "sharp escalation in confrontation" in the Southern Caucasus republic.

In a written statement distributed to the press, U.S. State Department spokesman Richard Boucher called on both the government and its rivals to "take all steps to prevent violence" and to "respect the role of peaceful assembly."

Opposition leaders are considering their next move.

Justice lawmaker Albert Bazeyan yesterday said the opposition first needs "to analyze the situation" before making any decision.

Another Justice parliamentarian, Vazgen Manukian, said the fight against President Kocharian's "unlawful regime" will continue.

But Armenian authorities yesterday vowed to get tough on rallies staged without official permission, saying all unauthorized meetings and processions are banned throughout the country.