Negotiations Continue In Restive Areas Of Iraq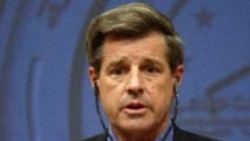 L. Paul Bremer Baghdad, 16 April 2004 (RFE/RL) -- The head of the U.S. Joint Chiefs of Staff, General Richard Myers, said before departing Iraq today that chief U.S. civil administrator in Iraq L. Paul Bremer is using "multiple channels" in negotiations with groups in the restive cities of Al-Najaf and Al-Fallujah.
U.S. forces maintained their positions outside the Shi'ite-dominated city of Al-Najaf today, where radical Shi'ite cleric Muqtada al-Sadr is believed to be located.

Fighting was reported in the Sunni-dominated city of Al-Fallujah overnight between guerrillas and U.S. forces, despite a shaky cease fire. An Iraqi medical official (Issam Muhammad) says at least 15 Iraqis were killed and 20 others wounded.

The fighting comes as the U.S. military says it is extending the deployment of 20,000 U.S. troops to help battle the recent insurgency.

Russia today continued to evacuate some 800 of its nationals and those of other CIS countries. The evacuation comes amid security concerns after a number of foreign workers were taken hostage.

In the most recent hostage incident, the Danish Foreign Ministry said today a Danish businessman is believed to have been seized.