Mortar Strike On Baghdad Prison Kills 21 Inmates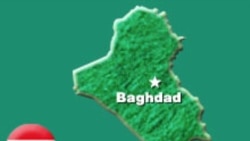 20 April 2004 -- The U.S. military says 21 prisoners were killed and about 100 others wounded in Iraq today when a barrage of mortars slammed into a detention center in Baghdad.
U.S. military spokesman Brigadier General Mark Kimmett said the deaths were caused by about 18 mortars. He gave no further details.

East of Baghdad, U.S. troops continue to surround the city of Al-Fallujah after fighting with insurgents earlier this month. The town was reported as being mostly quiet today as U.S. officials and local leaders continued to call on militants to give up their weapons.