Iraq: Prison Bombing Shifts Spotlight Onto Detentions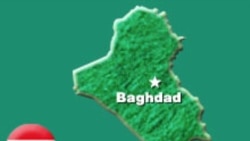 A bomb attack on 20 April on a U.S.-run prison in western Baghdad has highlighted the status of the several thousand Iraqis now held by the U.S.-led coalition. Local politicians and human rights activists complain they have little information on the prisoners. Members of the Iraqi Governing Council say they have little influence over the fate of their co-nationals kept in coalition prisons.
Prague, 22 April 2004 (RFE/RL) -- The bombing of the Abu Ghurayb prison in western Baghdad this week (20 April) has put the spotlight on the several thousand Iraqis now being detained in U.S.-run prisons across the country.
The attack on Abu Ghurayb -- the latest in a series of violent acts aimed at the prison -- killed some 22 inmates and injured dozens more. Abu Ghurayb is reportedly the country's largest prison, holding some 4,500 inmates.
It wasn't immediately clear who carried out the attack or what the motive was. U.S. officials have speculated the attackers may be hoping to spring a prison break or to provoke a riot.
In the aftermath of the attack, Iraqi politicians and nongovernmental organizations are urging the U.S.-led coalition to be more open about the prisoner situation.
Mahmud Uthman, an independent Kurdish member of the Iraqi Governing Council, told RFE/RL the council is concerned about the fate of those detained.
"Because the security file is totally in the hands of the [U.S.-led Coalition Provisional Authority], we are not allowed to interfere in these things -- which is a pity, I think." -- Mahmud Uthman, an independent Kurdish member of the Iraqi Governing Council
"We have been concerned during the last year, not only now, because we think there should be an investigation with these people and if possible a trial -- whatever. But because the security file is totally in the hands of the [U.S.-led Coalition Provisional Authority], we are not allowed to interfere in these things -- which is a pity, I think," Uthman said.
The exact number of Iraqis who are incarcerated is not clear. The coalition press office this week told RFE/RL that about 7,500 Iraqis are being held. A spokeswoman said most of the prisoners are believed to pose a security threat. But she also said 100 or so are common criminals.
Joe Stork is the advocacy director at Human Rights Watch's Middle East and North African Program. He said the United States, as the occupying power in Iraq, does have the right under the Geneva Convention to detain people. But, he says, the detainees must be charged with a crime or have their cases promptly reviewed.
"There does have to be some sort of review mechanism to determine that, in fact, they are a threat to security and this has to be reviewed on a regular basis. The [Geneva] convention suggests every six months, and we don't know frankly if this is happening or not," Stork said.
Stork said Human Rights Watch was unable to get information about the reviews and has not been informed about the number of detainees. He says earlier this year, February, his organization requested information from U.S. Defense Secretary Donald Rumsfeld, but got no response.
The spokeswoman for the U.S.-led coalition said about 300 prisoners so far have been released. She said to win release prisoners have to first renounce violence and then have the support of a prominent tribal or religious leader. She said each case is looked at separately but the timetable is still uncertain.
Hiwa Osman is a coordinating editor with the Institute of War and Peace Reporting in Baghdad. He said the situation is more complicated than it looks. Osman said there are several categories of prisoners being kept in the coalition prisons.
"I would divide them into three groups," Osman said. One is "the ordinary criminals, who are hardly getting caught because they are organized in criminal gangs and all that." He says there are also those "who have carried out some acts, who were caught in some acts of sabotage and attacks against coalition and the Iraqi forces."
Osman said a third group consists of people detained by accident because they happened to be at the site of an attack and were picked up as suspects.
He added that the U.S. policy appears to be simply to jail and release -- and that this is having a negative influence on Iraqis. He said once an Iraqi national has been a prisoner, his attitude against the coalition hardens. He added that Iraqis arrested for resisting the United States are usually not given the status of prisoner of war.
On the other hand, he said there is a need for cracking down on rising criminality. He pointed out that in October 2002, former Iraqi leader Saddam Hussein released nearly 150,000 prisoners -- including many dangerous felons.
Osman said these people are able to operate relatively freely amid the generally lawless atmosphere. Iraqi police officers say ordinary criminals are more frequently released than those suspected of being part of the armed resistance.
(Frank Csongos from RFE/RL's Washington Bureau contributed to this story.)