Georgian President In Adjaria After Abashidze Flees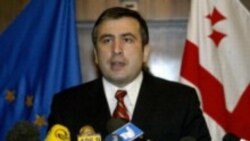 President Mikheil Saakashvili 6 May 2004 -- Georgian President Mikheil Saakashvili early today addressed a cheering crowd in Adjaria after announcing Aslan Abashidze, leader of the autonomous province, had resigned and fled.
Saakashvili thanked the crowd in the provincial capital Batumi, where thousands had called for Abashidze's resignation in a protest that grew over the last two days. The Georgian president called Adjaria's citizens "heroic" and said the country will now be united.
"Georgians: Aslan has fled! Adjaria is free! I congratulate everyone on this victory. Georgia has to be united and rise up. Georgia will be united," Saakashvili said.
Russia's ITAR-TASS news agency reported that Abashidze has arrived in Moscow, after leaving Batumi with Russian Security Council chief Igor Ivanov. Ivanov arrived in the Adjar capital late yesterday for talks amid rising tension. Saakashvili had said he had discussed offers of asylum for Abashidze with Russian President Vladimir Putin and U.S. authorities.
Georgian Prime Minister Zurab Zhvania has appealed to Adjaria's citizens to remain calm.
Some had feared the tense standoff between Abashidze -- who had refused to submit to central authority -- and Saakashvili would escalate into a civil war. Instead, it was resolved peacefully. Facing a popular uprising in the streets of Batumi and the defection of key political allies in his cabinet as well as the security forces, Abashidze told his supporters overnight that it was time to call it quits.
This was his last public message: "I ask you to simply disperse and return to your homes, to your homes. Two hundred cars are on their way, filled with soldiers and we don't know how this is all going to end. So thank you for everything, but please return to your homes."
A jubilant President Saakashvili announced the end of Abashidze's rule on Georgian television from Tbilisi: "Georgians: Aslan has fled! Adjaria is free! I congratulate everyone on this victory. Georgia has to be united and rise up. Georgia will be united."
Many Georgian officials have noted the special symbolism of today's events, which falls on St. George's Day, which commemorates the patron saint of the Georgian nation.
St. George's Day, by tradition, is celebrated on two dates in Georgia -- 23 November and 6 May. On 23 November, the so-called Rose Revolution brought the end of President Eduard Shevardnadze's administration. And today, 6 May, brought the downfall of Aslan Abashidze.
Georgian Prime Minister Zurab Zhvania spoke about this coincidence this morning after arriving in Batumi. "This day, this early morning on St. George's Day, will certainly go down in the centuries-long history of Georgia as an absolutely special day," he said. "It is very hard not to call attention to the striking symbolism. On 23 November, on St. George's Day, Georgia's capital was liberated when Eduard Shevardnadze left the political scene. And today, early on the morning of 6 May, also on St. George's Day, Aslan Abashidze has left."
The patriarch of the Georgian Orthodox Church, Ilya II, was even more explicit in a message from Tbilisi. Referring to Georgia's other two rebellious provinces of Abkhazia and South Ossetia, he urged their reunification. "I congratulate you on St. George's Day! And now, on to Abkhazia and Tskhinvali [regional capital of South Ossetia]!" the patriarch said.
Despite the patriarch's controversial appeal, Prime Minister Zhvania this morning stressed that Adjaria will retain its autonomous status. He said new elections to the region's parliament would be organized soon.
For complete coverage of the events in Georgia and Adjaria,
click here
.
(David Kakabadze from RFE/RL's Georgian Service contributed to this report.)
(complied from wire reports)