Iraq: Prime Minister Says Most Militias Agree To Disband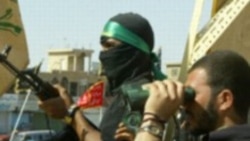 Al-Mahdi Army fighters (file photo) Iraq's interim Prime Minister Iyad Allawi says almost all of the country's powerful militias have agreed to disarm and that their members will either go into state-controlled security services or return to civilian life. If fully implemented, the deal could mark a major step forward for efforts to rebuild Iraq as a civil society.
Prague, 8 June 2004 (RFE/RL) -- The new Iraqi government has declared all militias illegal and says it will spend some $200 million to integrate members into security services or return them to civilian life.
Prime Minister Iyad Allawi said yesterday that nine militias -- with a total of some 100,000 fighters -- have agreed to disband under the deal. All of the militias are attached to parties cooperating with Allawi's U.S.-backed interim government. "The vast majority of such forces in Iraq -- about 100,000 armed individuals -- will enter either civilian life or one of the state security services, such as the Iraqi armed forces, the Iraqi police service, or the internal security services of the Kurdish regional government," he said.
Few observers are ready to predict today whether Iraq's rival parties will fully comply with the agreement. One reason is that the U.S.-led civil administration that Allawi's sovereign government is replacing also sought, but failed, to get Iraq's irregular armed forces to voluntarily disband.
He continued: "As of now, all armed forces outside of state control, as provided by this order, are illegal. Those that have chosen violence and lawlessness over transition and reintegration will be dealt with harshly."
The U.S. daily "The New York Times" reported today that the deal calls for the militias to disband by the time Iraq holds a first round of elections in January. The newspaper said 60 percent of the fighters are to be distributed among Baghdad-controlled security services, including the army and police. It said the rest "would either retire and receive pensions as if they had been members of Iraq's regular army, join private security firms, or be trained for new jobs."
Three militias in Iraq control the overwhelming majority of fighters included in the deal. Two of them are the main Kurdish factions, the Patriotic Union of Kurdistan and the Kurdistan Democratic Party, which together field some 75,000 fighters known as peshmerga. The two parties, which control distinct areas of northern Iraq, have often clashed militarily in the past, but in recent years have formed a joint Kurdish administration.
The U.S. daily "The Washington Post" today quoted U.S. officials as saying privately that about half of the peshmerga will join the national army or police forces but that thousands of others will join Kurdish-controlled regional forces. The newspaper lists those forces as "three specialized units -- mountain troops, counterterrorist forces, and quick-reaction battalions -- under the command of the Kurdish regional government that controls northern Iraq."
Some Iraqi groups have criticized any such exceptions for the Kurds, whose demands for substantial autonomy in Iraq sit uneasily with many Arab Sunni and Shi'a leaders. How much autonomy Iraqi Kurdistan will have remains to be resolved in the framing of a permanent Iraqi constitution early next year.
The third major militia agreeing to disband is that of the best-organized Shi'a political party, the Supreme Council for the Islamic Revolution in Iraq (SCIRI). The party has some 15,000 fighters in its Badr Brigade.
Other smaller militias covered by the deal are those of the Iraqi Hezballah, the Iraqi Communist Party, and the Iraqi Islamic Party. Three more groups -- Allawi's own Iraqi National Accord, the Iraqi National Congress, and the Al-Da'wah Party -- claim to have already demobilized their fighters, but there is no independent confirmation of the claims.
The agreement excludes one major militia, the Imam Al-Mahdi Army made up of some 10,000 armed supporters of radical Shi'a cleric Muqtada al-Sadr.
Sheikh Abbas al-Rubay, a spokesman for al-Sadr, expressed his opinion of the deal yesterday by saying, "Dr. Iyad Allawi did not meet with the Mahdi Army or the leadership of the Mahdi Army, and no agreement was reached, so the Mahdi Army is not part of this agreement."
"The Mahdi Army is not a militia," he added. "The Mahdi Army is an army to fight the occupation, and I do not think that there is a patriotic person in the interim government that calls for a halt to the resistance."
Allawi, a secular Shi'a politician, has taken a tough line against the Al-Mahdi Army by announcing that members of any groups not participating in the demobilization deal will be barred from holding public office for three years after leaving their organizations.
It is not yet clear what effect Allawi's ban will have on simultaneous efforts by mainstream Shi'a religious leaders to end al-Sadr's armed rebellion. Al-Sadr met with preeminent Shi'a religious leader Grand Ayatollah Ali al-Sistani in Al-Najaf over the weekend to strengthen peace arrangements under which his fighters are to return to their homes and allow Iraqi police to ensure security in Al-Najaf and nearby Al-Kufah.
"The Washington Post" today quoted Abd al-Hadi Darraji, a spokesman for al-Sadr in Baghdad, as saying that discussions continue over the future of the Al-Mahdi Army. But he said it is up to Shi'a religious authorities -- not the interim government or Washington -- to decide whether to dissolve the Al-Mahdi Army or convert it into a political movement.
If the nine militias covered under Allawi's deal fully disband, it would be a major step forward for efforts to transform Iraq into a civil society. Iraqi and U.S. officials have worried that the presence of militias could both threaten the possibility of fair elections next year and spark sectarian fighting if parties are unhappy with their election results.
But few observers are ready to predict today whether Iraq's rival parties will fully comply with the agreement. One reason is that the U.S.-led civil administration that Allawi's sovereign government is replacing also sought, but failed, to get Iraq's irregular armed forces to voluntarily disband.
That administration was the Coalition Provisional Authority (CPA), which at the outset of the occupation repeatedly demanded that the armed wings of political parties be dissolved. However, the parties balked, and those cooperating with the CPA frequently called for some security duties to be turned over to their militias, saying it was the best way to keep order in post-Saddam Hussein Iraq.
Allawi's announcement yesterday leaves unclear the future of the irregular armed force that the coalition is now allowing to keep order in Al-Fallujah, in the so-called Sunni Triangle.
U.S. forces last month allowed soldiers from Saddam Hussein's former elite Republican Guards to form an Al-Fallujah Brigade, which also incorporated some insurgents. The brigade took control in the city after U.S. Marines withdrew. The brigade, which was welcomed by the Iraqi Governing Council, is tasked with collecting heavy weapons in the city, but has yet to turn them over to U.S. troops.