Georgia: President Saakashvili Calls Threat To Ships Reasonable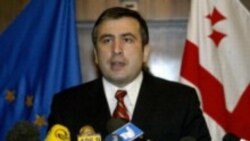 Georgian President Mikheil Saakashvili (file photo) Georgian President Mikheil Saakashvili is on an unofficial visit to the United States this week to attend a conference in the southern city of Atlanta. The visit comes at a time of growing tension with Russia over Georgia's breakaway regions of Abkhazia and South Ossetia. Before attending the conference, Saakashvili traveled to Washington to meet with officials at the White House, the State Department, and the Pentagon.
Washington, 6 August 2004 (RFE/RL) -- Georgian President Mikheil Saakashvili says no one should be surprised that he ordered the Georgian coast guard to sink any ship that tries to reach Georgia's breakaway Abkhazia region along the Black Sea.
Speaking 5 August in Washington, Saakashvili said the Georgian government has warned countries since 1995 that they may not land in Abkhazia without permission.
Saakashvili told an audience at the Center for Strategic and International Studies, a Washington-based policy research center, that Russia has signed a treaty honoring Georgia's territorial integrity. But now, he says, Moscow contends that private Russian companies have a right to do business directly with Abkhazia, bypassing the authorities in Tbilisi.
Saakashvili says it should come as no surprise that after nine years his government has decided to take action against maritime intruders. He says the Russians claim they are tourist vessels. Saakashvili calls them smuggling ships.
"These current tensions in South Ossetia began as a result of our successful and resolute efforts to put an end to criminality and illegality that for too long was the norm in the South Caucasus" -- Georgian President Mikheil Saakashvili
Saakashvili says the government of any other democracy would act as he has done to defend its territorial integrity.
"It's not like, you know, being aggressive or being erratic or being especially nervous about something. It's the way that, after many warnings, after many diplomatic notes, after a certain [length of] time, any country's obliged. Any democracy does not only have [the] right to act, but has [the] obligation to act to protect its borders," Saakashvili said.
Russian Defense Minister Sergei Ivanov has said the sinking of Russian vessels would be tantamount to piracy, and he hinted that Moscow might respond to such action with military force. Abkhaz leader Vladislav Ardzinba, meanwhile, has promised to protect boats carrying Russian tourists.
Moscow and Tbilisi have been at odds for more than a decade over the fate of Abkhazia and another breakaway region, South Ossetia, both of which won autonomy in separatist wars in the early 1990s. Saakashvili has made reuniting the country a priority since his election early this year.
In his Washington remarks, Saakashvili said that tensions in both regions have nothing to do with the desire for independence among the people living there. He said, instead, they result from Tbilisi's effort to impose the rule of law.
"These current tensions in South Ossetia began as a result of our successful and resolute efforts to put an end to criminality and illegality that for too long was the norm in the South Caucasus -- in South Ossetia and Abkhazia. [This was] tolerated by the previous governments of Georgia and unfortunately promoted by the so-called Russian peacekeepers," Saakashvili said.
The State Department on 5 August urged restraint on both the Georgian and Russian sides. "We've encouraged both sides to talk to each other and to use the mechanisms available to avoid unintentional incidents and to find ways of resolving tensions," said State Department spokesman Richard Boucher.
Saakashvili's public remarks on 5 August followed an hour-long meeting at the White House with U.S. national security adviser Condoleezza Rice. He later met with Secretary of State Colin Powell. On 4 August, he met with Defense Secretary Donald Rumsfeld at the Pentagon.