Delegation In Al-Najaf For Talks With Al-Sadr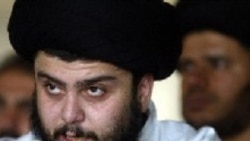 Muqtada al-Sadr (file photo) 17 August 2004 -- A group of Iraqi political and religious leaders are in Al-Najaf today for talks aimed at ending a conflict between a militia led by Shi'ite cleric Muqtada al-Sadr and U.S. forces.
Some 1,000 Iraqi delegates who have been meeting in Baghdad to choose an interim national assembly agreed yesterday to send the mission to the holy Shi'a city.
In Baghdad later today, the Iraqi delegates are expected to vote on members of a temporary national assembly that will oversee the country's interim government until elections planned for January.
(Reuters/AFP/AP)
For the latest news on Iraq, see RFE/RL's webpage on "The New Iraq".