Iraqi Cleric Agrees Cease-Fire, But Fighting Continues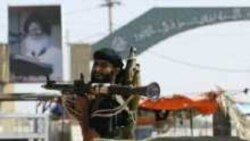 Al-Sadr fighter in Al-Najaf (file photo) 19 August 2004 -- Iraqi radical Shi'ite cleric Muqtada al-Sadr has reportedly agreed to end the current crisis in the holy city of Al-Najaf, but he has called for a cease-fire to be in place before his forces will pull back.
A letter from al-Sadr's office in Baghdad said that he had agreed to leave the Imam Ali Mosque.
Iraq's Defense Ministry said al-Sadr and his followers would be granted amnesty only after they abandoned their uprising in Al-Najaf and other cities.
In Washington, national security adviser Condoleezza Rice reacted sceptically to the news, saying al-Sadr could not be trusted.
There were no signs of a let up in fighting in Al-Najaf. Reports spoke of sporadic gunfire through the night between al-Sadr's Imam Al-Mahdi Army and U.S.-led forces.
Meanwhile, Iraqi militants who say they captured a U.S. journalist last week are said to have threatened to kill him if U.S. forces do not leave Al-Najaf.
(Reuters/AP)
For the latest news on Iraq, see RFE/RL's webpage on "The New Iraq".