Analysis: Stirrings Over Kosova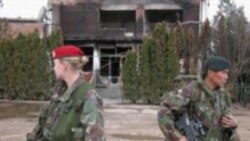 8 September 2004 -- German Defense Minister Peter Struck told his parliament's defense committee on 7 September that the time has come for the West to reconsider its policy toward Kosova. He is not alone in his views.
Support has grown recently among some key UN Security Council members -- such as the United States and Britain -- for accelerating the handover of some authorities to ethnic Albanian-led institutions in Kosova while maintaining pressure for key reforms. A recent report by Norwegian diplomat Kai Eide to Secretary-General Kofi Annan and several statements by Danish diplomat Soren Jessen-Petersen, who is the new head of the UN's civilian administration in Kosova (UNMIK), indicate that the UN is moving in a similar direction (see "RFE/RL Balkan Report,"
9 July
and
20 August
2004).
These are not the only signs that some changes in the international community's policy toward Kosova might be in the offing. Struck argued that the international community's "standards before status" policy on Kosova "is not the only solution" regarding the final status of the province.
He did not elaborate but questioned the efficacy of several aspects of current international policy in Kosova. He noted, for example, that it takes much money and many troops to protect often small and isolated settlements inhabited primarily by elderly members of ethnic minorities. Struck suggested that the current "security policy has failed," adding that time has come to consider establishing "more consolidated" Serbian enclaves.
Struck also promised a "thorough investigation" into the role of the German KFOR troops during the 17-18 March violence. German and some other European KFOR troops have recently come in for heavy criticism from nongovernmental organizations and the German military for their performance during the March unrest.
The minister himself is no stranger to controversy, including charges that he has not always done his homework. Against this background, it is not clear whether Struck's statements on 7 September were carefully planned or not.
Struck's latest remarks appear striking because in another part of Berlin, Foreign Minister Joschka Fischer was telling a gathering of Germany's diplomats posted around the world that the current international policy in Kosova is working.
His latest remarks nonetheless appear striking because in another part of Berlin from where Struck was speaking, Foreign Minister Joschka Fischer was telling a gathering of Germany's diplomats posted around the world that the current international policy in Kosova is working.
The discrepancy was noted by the "Frankfurter Allgemeine Zeitung," as well as by German parliamentary deputy Rainer Stinner of the opposition Free Democratic Party (FDP), which advocates making Kosova a protectorate of the EU with the U.S. role limited to KFOR peacekeeping. Addressing the parliament on 8 September, Stinner said that Struck's remarks showed that at least one member of the government recognizes that the current policy on Kosova is at a dead end, and that time has come to develop new ideas. Stinner called on the parliament to discuss the matter in a full session.
Only a few days before Struck spoke, former German General Klaus Reinhardt was quoted by the "Stuttgarter Zeitung" on 2 September as saying that new policy options for Kosova must be developed by the EU and the United States. He charged that too much emphasis has been placed on the military aspects of the situation in the province and on the "standards before status" formula. He recommended that the West develop a new strategy for the region as a whole, suggesting that the lack of a clear plan for the final status of Kosova is a big part of the problem.
U.S. Ambassador to Serbia and Montenegro Michael Polt told regional media of 6 September that the United States agrees with Norwegian diplomat Eide that more progress needs to be made toward clarifying Kosova's final status. Polt stressed that "standards before status" remains Washington's official policy, adding, however, that policy should be linked to action and not to "slogans."
Daniel Serwer of the United States Institute of Peace has also said that resolving the status issue is essential for improving the overall situation in Kosova. Indeed, many Balkan experts have long argued that failure to resolve the status question will only fuel instability, and that the violence of 17-18 March 2004 was a wakeup call for the international community to act (see "RFE/RL Balkan Report,"
23 February
2001 and
2 April
2004).