Iraq: Judges Say Improving Rule Of Law Depends On Security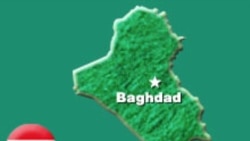 Much of the news from Iraq focuses on insurgent attacks on U.S. forces and Iraqi authorities, including the police. But amid the daily violence, many ordinary Iraqis are trying to build a new society that is freer than anything Iraqis have known in decades. Among these people are Iraq's judges, who are responsible for dispensing justice and enforcing the rule of law. Fifty Iraqi judges are currently in Prague for an internationally funded seminar on the work of judges in a democratic society. The seminar, run by the Central European and Eurasian Law Initiative, allows the judges to exchange ideas with legal experts from the United States and Europe as they consider such questions as judicial ethics, relations with other branches of government, and the problems and challenges of judicial independence. The judges return to Iraq after the seminar ends tomorrow. But amid their busy schedule, two of them took time out to talk to the international media.
Prague, 15 September 2004 (RFE/RL) -- Since U.S.-led forces toppled the Iraqi regime of Saddam Hussein last year, the rate of serious crimes like murder, robbery, and kidnapping has increased dramatically.
Iraqi judges say they find themselves hard-pressed to cope with the rising criminality. They say one reason is that Iraq's security forces have undergone radical restructuring, much like many of the country's other institutions.
Judge Noman Fathy Hassan is deputy chief of the Court of Cassation (top appeals court) in Baghdad: "The security situation there is very difficult and there is a confusion and overlapping of responsibilities between the international forces and the judiciary in Iraq."
Both judges say that future progress in implementing the rule of law across Iraq will depend on improvements in the security situation.
He says the restructuring began with the disbanding of the army and police under the former U.S.-led Coalition Provisional Authority (CPA) in mid-2003. The CPA then reformed the units by hiring only former members and new applicants who passed screening tests for ties to the former regime. The reformed security forces today number several hundred thousand as the process of reconstituting and training them continues.
Judge Hassan says that the initial disbanding of the Iraqi security forces created a law and order problem that emboldened criminals to directly challenge authorities. Judges are routinely threatened by criminal gangs before trials and, in some cases, assassinated in campaigns of intimidation.
The judge also says the Iraqi judicial system has been weakened by coalition forces engaging in their own security sweeps. He says that when coalition forces detain people in coalition-run prisons like Abu Ghurayb, family members often are unable to find out where they are kept. The families turn to the Iraqi judiciary but local authorities have no more information than they do.
Hassan says this situation has made judges even more vulnerable to threats and that a number of them, lacking any kind of formal protection, have been killed.
The difficulties faced by judges are the worst in central and southern Iraq. By contrast, judges in northern Iraq describe conditions there as normal by most standards of the profession.
Judge Latif Mahmood is the chief justice of Kurdistan, the area of northern Iraq under Kurdish control: "The security situation is difficult in the middle [and south] of Iraq, especially for legal and judicial work. But we in Iraqi Kurdistan for many years have had a well functioning judicial system. The judicial system is in place, democracy is in place, there is a parliament in Iraqi Kurdistan, and a judge is free to make rulings in accord with his own convictions and without external pressure."
Mahmood says the security situation in Iraqi Kurdistan is stable enough that "I have no private guards or any gun at home." He says threats to judges are rare because police forces are strong enough to cope with criminal gangs, despite the changes elsewhere in Iraq.
Much of northern Iraq fell outside of Hussein's control after the 1991 Gulf War. Since then, the Iraqi Kurds have established their own governmental and security institutions. Police units in the region were not disbanded and reformed by the CPA since they were considered free of ties to the former regime.
Both judges Hassan and Mahmood say that future progress in implementing the rule of law across Iraq will depend on improvements in the security situation.
The Iraqi government of interim Prime Minister Iyad Allawi has made restoring security in Iraq its top priority.