Karzai Winds Up Election Campaign With Kabul Rally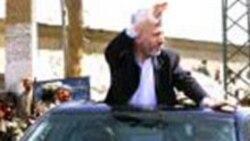 Hamid Karzai (file photo) 6 October 2004 -- Afghan Transitional Administration Chairman Hamid Karzai said today that Afghanistan's presidential election on 9 October will decide the fate of the country "for centuries."
Karzai was speaking to a crowd of a few thousand people at Kabul's sports stadium. He said presidential elections will be held every five years, but the 9 October vote -- the country's first-ever democratic poll -- was very important.
Karzai is favored to win the election which pits him against 17 other candidates, most of them not well-known.
Campaigning for the election, which has been overshadowed by security concerns, ends today.
(AFP)
For more on the Afghan elections, see RFE/RL and Radio Free Afghanistan's dedicated webpage "Afghanistan Votes 2004-05."