IAEA Chief To Report On Missing Iraqi Explosives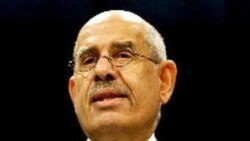 The IAEA's el-Baradei (file photo) 25 October 2004 -- The head of the United Nations nuclear watchdog will report to the UN Security Council today on the disappearance of nearly 400 tons of explosives in Iraq.
Melissa Fleming, a spokeswoman for the International Atomic Energy Agency (IAEA) said that IAEA Director General Mohammad el-Baradei decided to brief the council after reports of the vanished explosives appeared today in "The New York Times."
She said Iraq's interim government had informed the IAEA of the missing weapons early this month and requested that U.S.-led forces seek to recover them.
Fleming also confirmed that the explosives, which went missing shortly after the U.S.-led invasion in March 2003, have nuclear applications.
The explosives can reportedly be used to demolish buildings, produce missile warheads, or detonate nuclear weapons.
(Reuters/AP/The New York Times)
For more on Iraq and its weapons history, see "The New Iraq."