Iraq Vows To Punish Killers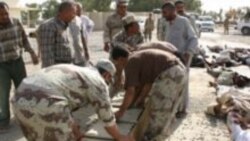 Abu Mus'ab al-Zarqawi claimed responsibility for the killings 26 October 2004 -- Iraq vowed today to catch and punish the culprits of a weekend attack in which 52 people -- 49 unarmed soldiers and three civilian drivers -- were massacred.
The execution-style killing was claimed by Islamic militant Abu Mus'ab al-Zarqawi's group.
Iraqi investigators say they are trying to determine whether the army's ranks had been infiltrated by the insurgents.
Meanwhile today, two roadside bombs blew up near police patrols in Baquba, northeast of the capital Baghdad, killing one policeman.
And U.S. troops reinforced positions around the rebel-held city of Al-Fallujah after an overnight air strike, while the interim Iraqi government says it is trying to achieve a peaceful solution ahead of elections scheduled for January.
In another development, the United States says it is investigating how 342 metric tons of high explosives have gone missing in Iraq. The explosives, which disappeared in April of last year, can be used to make a detonator for a nuclear bomb or for attacks on planes and buildings.
(Agencies)
For the latest news on Iraq, see RFE/RL's webpage on "The New Iraq".