U.S. Air Strikes Hit Al-Fallujah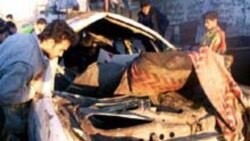 (file photo) 28 October 2004 -- U.S. warplanes today destroyed a house in Al-Fallujah suspected of being used by the guerrilla group of Al-Qaeda ally Abu Musab al-Zarqawi. At least two people are reported killed in the strike.
The attack comes as U.S. forces ringing the central Iraqi city continue to strike targets there almost daily in a bid to weaken al-Zarqawi's group and press residents to expel his fighters.

Elsewhere today, a car bomb targeting a U.S. military convoy in southern Baghdad killed one U.S. soldier and at least one Iraqi civilian. And three Iraqis, including two policemen were injured in overnight attacks near the restive central Iraqi city of Al-Baquba.