Radio Free Iraq Gets Iraqi Reaction To Bush Reelection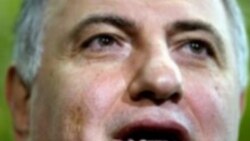 Ahmad Chalabi (file photo) RFE/RL's Radio Free Iraq (RFI) spoke with Iraqi National Congress head Ahmad Chalabi on 4 November about the outcome of U.S. elections. "I'm happy that [U.S. President George W.] Bush won the elections. It's good for the Iraqis," he said. Asked why, Chalabi said: "First, he was the one who helped the Iraqis to get rid of Saddam [Hussein]. Destroyed Saddam's regime. Second, he saw the mistakes made by the United States recently [in Iraq] and the American policies in the last period. [The administration] noticed the mistakes of all of that."
Asked what change may occur in the second Bush term, Chalabi said: "There will be new studies about what's going on in Iraq and a reevaluation of the situation in a serious way. I don't think they are going to leave the situation as it is now." Chalabi also said that a second Bush term is good for Iraq because the administration is familiar with the situation in Iraq. "There wouldn't be any gap of seven to eight months to know the situation" as might happen with a new administration in the White House, he said.
RFI also interviewed Iraqi Kurds in Al-Sulaymaniyah to gauge reaction to Bush's reelection. Iraqi poet Jawhar Kerman said, "We were watching the U.S. elections the last days, especially when the race was close between the candidates, which makes the Iraqis and especially the Kurds very interested in the elections." "We were watching the results on the television and on the Internet. It was important for the Kurds that George Bush win the election for another term for many reasons...."
Writer Abd al-Karim Shaykhani told RFI: "I will not exaggerate when I say that all the world was holding its breath for the elections, because this process is not a normal process. It's an election for the president of the strongest nation in the world and in [Bush's] hand he will have to power to control the world. And I can confirm here that the Kurdish nation was twice as interested in the elections than the other nations because Bush was the only one to fight against terrorism and he led the campaign to finish the Taliban [in Afghanistan] and also...because he was the president who destroyed Saddam's regime."
[For reaction from around the world to the U.S. presidential election, see RFE/RL's webpage "World Reacts To U.S. Election".]