U.S. Explains Al-Fallujah Operations To Foreign Officials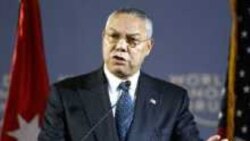 U.S. Secretary of State Colin Powell (file photo) 8 November 2004 -- U.S. Secretary of State Colin Powell has called his counterparts in several countries to explain U.S. military operations now under way in the Iraqi city of Al-Fallujah.
U.S.-led forces opened a massive assault on Al-Fallujah today, aiming to re-take the city from insurgents.
State Department spokesman Richard Boucher said that Powell called officials from Poland, Egypt, Jordan, Turkey, and Saudi Arabia.
Poland is in the U.S.-led coalition in Iraq while Turkey, Jordan, and Saudi Arabia border the wartorn country. Egypt is expected to host an international conference on Iraq at the end of the month.
Boucher said that Powell explained that the United States saw the military operation as a last resort. He promised to spare civilian lives. He said Powell planned more calls to other countries.
(AFP)
For related stories, see "U.S. Forces Launch Ground Assault On Al-Fallujah" and
"U.S. Officials Braced For Tough Fighting In Al-Fallujah".