Iraq: U.S. Forces Take Most Of Al-Fallujah As Insurgent Attacks Erupt Elsewhere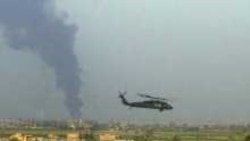 The skies over Al-Fallujah on 10 November U.S. forces say they have taken some 70 percent of Al-Fallujah as insurgents appear to be making a last stand in the south of the city. But as the U.S. troops -- backed by heavy armor and air power -- look certain to have all of the town soon under their control, insurgents are launching attacks on Iraqi government targets in other parts of central and northern Iraq.
Prague, 12 November 2004 (RFE/RL) -- On the fourth full day of combat in Al-Fallujah, U.S. forces have driven insurgents into the south of the town for what appears to be the last phase of the struggle.
But reporters embedded with U.S. Marines spearheading the assault say the insurgents are still fighting fiercely, even as they retreat. They are believed to be re-arming from weapons caches prepositioned in the city and show no signs of running out of ammunition.
U.S. Defense Secretary Donald Rumsfeld told reporters yesterday during a visit to El Salvador that hundreds of insurgents have been killed since the U.S. operation began on 8 October.
U.S. military officials say 600 insurgents have died in Al-Fallujah out of a force of some 3,000 fighters estimated to have been in the city when the U.S. offensive began.
"I have no doubt but that some [insurgents] did leave before [the Al-Fallujah operation] started. We also know that there are a number of hundreds that didn't, and have been killed. Others have been captured," Rumsfeld said.
U.S. military officials say 600 insurgents have died in Al-Fallujah out of a force of some 3,000 fighters estimated to have been in the city when the U.S. offensive began.
The U.S. military also says 18 American soldiers and five Iraqi soldiers have died in the fighting. Another 178 U.S. and 34 Iraqi government troops have been wounded.
Rumsfeld refused to predict when the fighting would end but said the outcome is not in doubt.
"I have no need to ever predict how long things will take," Rumsfeld said. "They'll take as long as they take. And [the offensive] will end, and it will end successfully, and [Al-Fallujah] will no longer be a safe haven for terrorists or extremists."
It is unclear how the some 50,000 civilians believed to have remained in Al-Fallujah are faring during the intense urban combat. Most of the town's 300,000 residents fled in the run-up to the U.S.-led operation.
As U.S. and Iraqi forces secure Al-Fallujah, insurgents appear to be launching counterattacks on government targets elsewhere in the country.
In the northern city of Mosul, groups of fighters set police stations ablaze, stole weapons, and roamed the streets on Thursday. Residents of the northern city -- Iraq's third largest -- called the violence there the worst since the U.S.-led invasion to topple Saddam Hussein last year.
"The New York Times" reported that U.S. forces are taking some units out of Al-Fallujah and sending them to Mosul due to the unrest.
The past week has also seen an upsurge in guerrilla activity in numerous cities in central Iraq. They include Samarra, Baiji, Baquba, Tikrit, and Ramadi, as well as parts of Baghdad. A car bomb in Baghdad yesterday killed 17 people.
Reuters reported machine-gun fire and grenade blasts in northern Baghdad today as insurgents clashed with Iraqi National Guards. There is no immediate word on casualties in the fighting in the mainly Sunni Muslim Adhamiya district.
U.S. forces yesterday raided the Baghdad home of two top officials of an influential organization of Sunni clerics that has sharply criticized the military operation to retake Al-Fallujah.
The group, the Muslim Clerics Association, called on Iraqis this week to boycott the upcoming January elections in protest against the Al-Fallujah offensive.