U.S.: Bush Signals New Involvement In Mideast Peace Process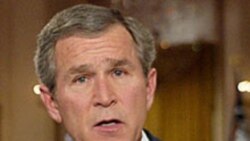 George W. Bush Ten days after U.S. President George W. Bush was elected to a second four-year term, British Prime Minister Tony Blair went to Washington -- not only to congratulate the American leader, but also to press him to become more engaged in the Middle East peace process. Despite his preoccupation with Iraq, Bush says he's never taken his eye off the Israeli-Palestinian conflict. The two men met yesterday to discuss this and other world issues, then met with reporters.
Washington, 13 November 2004 (RFE/RL) -- Bush signaled a renewed involvement in the Israeli-Palestinian peace process yesterday, saying the United States will spend what he called its "capital" to support a sovereign Palestinian state.
Bush and Blair both said they will do everything they can to ensure the existence of the so-called "two-state solution" -- Israel and Palestine co-existing peacefully, side by side.
Asked if he hoped to see the creation of a sovereign Palestine before his second term ends in early 2009, Bush said he hoped so, but said the focus should be on results, not time limits.
"I believe we have got a great chance to establish a Palestinian state and I intend to use the next four years to spend the capital [political power] of the United States on such a state. I believe it is in the interests of the world that a truly free state develop," Bush said.
We are the pillars of the free world. We face the same threats and share the same belief of freedom in the rights of every individual." -- George W. Bush
Blair said the United States and Britain -- along with the rest of the international community -- will work hard to support the upcoming Palestinian elections, and will ensure the stability of the Palestinian economic, political, and security infrastructures.
The prime minister said Palestinians must meet only one condition to get the help of the international community: They must opt for a democratic state. He said he expects a difficult transition to self-rule, but added that such a transition has been difficult elsewhere, too.
"You look at all these Eastern European countries, Central and Eastern European countries in the European Union now, just democracies over the last 10 years, [and they have] fierce election debates, changes of government, often difficult circumstances when the governments change. But you go to those countries and talk to the people there and their sense of liberation and their sense of self-worth as a result of the freedom they have, that is the best testament to why it is sensible to have faith in democracy," Blair said.
Blair hopes Bush will give more support to the Palestinian Authority. Of particular concern is Israeli Prime Minister Ariel Sharon's plan to withdraw about 600 Jewish settlers from the West Bank and about 2,800 from Gaza. The withdrawals could lead to political instability in the Palestinian territories if the Palestinian Authority doesn't have strong international support.
Bush's words yesterday indicated that this support would be forthcoming in the absence of Palestinian leader Yasser Arafat. Arafat died on 11 November in a French military hospital and was buried yesterday in the West Bank.
Bush had refused to deal with Arafat, saying the Palestinian leader was not a credible negotiating partner because he did not end attacks against Israelis. This worsened the relations between the United States and Europe, which already had been strained by the Iraq war. Many Europeans believed Bush favored Israel too much at the Palestinians' expense.
Bush said he intends to address those differences during a visit to Europe shortly after he is inaugurated for his second term in January 2005.
"All that we hope to achieve together requires that America and Europe remain close partners. We are the pillars of the free world. We face the same threats and share the same belief of freedom in the rights of every individual. In my second term, I will work to deepen our trans-Atlantic ties with the nations of Europe," Bush said.
On a related topic, Bush said the United States would not stand for an Iran that had nuclear weapons.
Bush wants the United Nations to impose sanctions on Tehran accusing it of secretly seeking to develop nuclear weapons. Iran says its nuclear programs are for energy technology.