Iraq: Commanders Say Crackdown On Insurgents Successful In Al-Fallujah, Mosul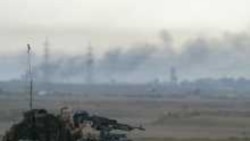 A U.S. general has expressed confidence that the U.S.-led offensive in the Iraqi city of Al-Fallujah has "broken the back" of insurgents and disrupted their activities around Iraq. Marine Lieutenant General John Sattler said that as a result of the 10-day U.S.-led assault, Al-Fallujah can no longer be used as a "safe haven" for militants to organize attacks. U.S.-led forces are also said to be closing in on remaining insurgents in the northern Iraqi city of Mosul.
Prague, 19 November 2004 (RFE/RL) -- Eleven days after U.S. and Iraqi government forces launched Operation Dawn -- the offensive to clear the restive city of Al-Fallujah of insurgents -- the commander of the operation, Lieutenant General Sattler, claimed success.
"We feel right now that we have, as I mentioned, broken the back of the insurgency, and we have taken away this safe haven," Sattler said.
Sattler -- in charge of the 1st Marine Expeditionary Force -- said U.S. troops have found what appears to be a command center for the group loyal to Jordanian-born terrorist Abu Mus'ab al-Zarqawi. Al-Zarqawi is the man the United States considers the mastermind behind scores of attacks on U.S. and Iraqi troops and civilians. He is also blamed for the kidnappings of Iraqis and foreign workers, and for the executions of some of these hostages.
Sattler said the attack on Al-Fallujah had disrupted the insurgent network, but he predicted that those who had escaped the city will try to stage attacks in other areas of Iraq.
The U.S. government is offering a $25 million reward for information leading to al-Zarqawi's capture.
Sattler said troops discovered a workshop in Al-Fallujah where a vehicle was being converted into a bomb and a room with flight plans and instructions on how to shoot down planes.
Sattler said 51 U.S. soldiers and eight Iraqi government troops have died so far in the Al-Fallujah offensive. The wounded include 425 U.S. troops and 43 Iraqi soldiers. Sattler said some 1,200 insurgents were killed in the Al-Fallujah operation and more than 1,000 captured.
A statement posted by Al-Fallujah's Shura of Mujahedin Fighters claims insurgents inflicted heavy casualties on U.S.-led forces, including the downing of two F-16 fighter jets.
The U.S. military said earlier in the week that it was possible civilian residents of Al-Fallujah could start returning in about a week. But Sattler yesterday rejected giving a specific time frame for such returns. He said it depends on the situation inside Fallujah, where sporadic fighting is still reported.
The interim Iraqi government also has declared the Al-Fallujah operation a success and pledged that health services in the city will be restored and the housing and reconstruction needs of residents assessed.
Sattler said the attack on Al-Fallujah had disrupted the insurgent network, but he predicted that those who had escaped the city will try to stage attacks in other areas of Iraq.
U.S. Secretary of State Colin Powell, speaking to reporters in Chile yesterday, said the insurgents are preventing Iraq from moving forward.
"Who is causing distress for the Iraqi people now? It is not the new government. It is not the coalition presence. It is not our forces that are doing it," Powell said. "It is terrorists that have come to make trouble, but more importantly it is the insurgency that is being conducted by these former elements of Saddam Hussein's awful, evil, tyrannical regime."
Police and a hospital official said two Iraqi police officers were killed today in separate attacks north of Baghdad -- one in Ba'qubah and one in Moqdadiyah. Other attacks were reported in Kirkuk, Bayji, and Baghdad.
U.S. and Iraqi commanders say their soldiers are also closing in on remaining insurgents in Mosul. The leader of a special commando force sent from Baghdad to Mosul, Major General Rashid Flaih, promised to "cleanse" Mosul of "criminals and terrorists."
(with agency reports)