Ukraine: Despite Mediation Efforts, Ukrainians Say Country's Fate Is In Their Hands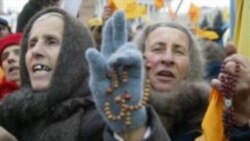 Tens of thousands of protesters have taken to the streets in recent days With European Union envoys in Kyiv to help Ukraine sort out its disputed presidential poll, supporters of both opposition candidate Viktor Yushchenko and the purported winner of the election, Prime Minister Viktor Yanukovych, say it is unclear to them what role the EU has in the crisis. RFE/RL reports on the mood in Kyiv.
Kyiv, 26 November 2004 (RFE/RL) -- Interviewed on the streets of Kyiv, members of both camps of demonstrators appear skeptical about the EU delegation's ability to help end their country's political standoff.
Oksana Tytorenko is a Ukrainian Russian from Kyiv. She is among those who voted for Prime Minister Viktor Yanukovych, the official winner of the 21 November runoff.
Titorenko says she has no hope that today's visit to Kyiv by Javier Solana, the EU's foreign policy chief, and other EU officials will change the situation.
"To tell you frankly, me, as a person from the common people, hear what people are talking [about], and I know that this visit is unnecessary. I think that [the Ukrainian] people themselves will find the ways to solve this problem. In any case, [the EU officials] might suggest something but people will do as they want," Tytorenko said.
"We hope nothing [from Solana's visit]. One way or another Yushchenko will be the president."
She says the best that can be done by visiting EU officials, who include the presidents of neighboring Poland and Lithuania, is to bring the leaders of both sides to the bargaining table -- and help end the chaos on the streets.
After meeting with Solana today, outgoing President Leonid Kuchma told reporters in Kyiv that the EU foreign policy chief would hold a joint meeting later today with both Yushchenko and Yanukovych.
"What is happening today is leading to a split of Ukraine. I am not afraid to make such a bold statement because it is true. As the president, I have to respect the 15 million votes cast for Yanukovych, but I also respect the 14 million votes cast for Yushchenko. If you are reasonable politicians, sit down and think about reaching a compromise for the sake of those people," Kuchma said.
International observers from the Organization for Security and Cooperation in Europe (OSCE), the European Parliament, and the Council of Europe said the election failed to meet democratic standards. The United States has also condemned the elections, which Yushchenko has called fraudulent.
"They [the EU] can help with good words, but they cannot order what we should do. But they can support us with good words."
Lyudmila Ostapenko, a financial analyst, says she believes the EU can help Ukrainian politicians find a compromise.
"We hope that [the EU position towards the election] will be strengthened even more. Maybe by some appeal, maybe by peaceful initiative, which would help to us to solve the conflict in a peaceful way," Ostapenko said.
Mykhailo Voitokh, a Kyiv worker, also said the EU's delegation visit can provide moral support for what he called "Ukrainians fighting for democracy":
"They can help with good words, but they cannot order what we should do. But they can support us with good words," Voitokh said.
He says Yushchenko's supporters were eagerly anticipating the EU delegation's arrival and want to know about their proposals.
But other people demonstrating in Kyiv say the future of the country lies solely in the hands of the Ukrainians themselves.
Oleg is among thousands of young protesters who have braved freezing temperatures for five days to rally in support of Yushchenko.
"We hope nothing [from Solana's visit]. One way or another Yushchenko will be the president," Oleg said.
Alyaksandr, from Zhitomir, also believes Yushchenko will be president. But he adds: "It's not because the EU seems to support him, but because the Ukrainians want him to lead the country."