Ukraine: Citizens Relieved To See Sides Negotiating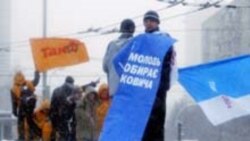 Ukrainian opinion is split on the elections (file photo) Following mediation by outgoing President Leonid Kuchma, European officials, and a Russian official, the two contestants in Ukraine's disputed 21 November presidential election announced they would immediately start negotiating a political solution to the crisis. Ukrainian authorities also promised to refrain from using force against demonstrators backing either opposition leader Viktor Yushchenko or Prime Minister Viktor Yanukovych. RFE/RL sought the opinions of ordinary Ukrainians about the news, and found that many are pleased to see that the rivals have at last started looking for a way out of the crisis.
Kyiv, 27 November 2004 -- Many ordinary Ukrainians say they are happy that a way has opened for a possible compromise in the disputed presidential election, but they have different interpretations of the agreement reached yesterday.
Several Yushchenko supporters, demonstrating in Kyiv's Independence Square, say their side has achieved a victory.
One man, who identified himself as Andrey, said he supports Yushchenko because he is the only man who can bring democracy to the country. He praised the agreement announced after the mediation.
"You know I think that in the end we have won -- that this is the beginning of our victory," Andrey said.
However, he said the greatest achievement is that after several days of political rallies people realize that it is possible for their opinions to be heard by those in power, and they have gained trust in themselves. Andrey praised Western leaders who came to Ukraine to help to defuse the tension.
Other people said the compromise could have been easily reached without the mediation of the EU if the authorities were interested in calming down the situation.
Evgenij Levchenko of Kyiv blamed outgoing President Leonid Kuchma for the passivity, which he said led the "country very close to confrontation."
"He [Leonid Kuchma] did nothing although everything was in his hands," Levchenko said. "He is [already] a former president."
Valentina, a teacher from a small town near Kyiv, said the best way out of the conflict is new elections in those regions where fraud is suspected. However, she said it is good the country backed away from serious conflict.
Some said the compromise could have been easily reached without the mediation of the EU.
Liudmila Petrenko, a bank clerk in Kyiv and a staunch supporter of Yanukovych, said yesterday's agreement is a victory for Yanukovych because "from the beginning he suggested the negotiations."
"On the whole I think that the victory is on the side [of Yanukovych]," Petrenko said. "It doesn't matter that many people are walking and shouting that the victory is behind Yushchenko. He [Yanukovych] has won a nice victory, a civilized one, completely not hysteric. What is going on now is mass hysteria. This is the victory of Yanukovych. They've been great. They have offered negotiations from the very beginning."
Petrenko said she is not very critical of Kuchma's position because his decision to not take sides was a good tactic in an atmosphere of growing confrontation. But she said that Kuchma "could have managed to resolve the crisis himself, without any assistance from abroad."
Petrenko added that the fact that "the two opponents in the end started talking is good in itself." She said the court system and methods to verify forgery are available to fix such matters.
Nikita, a man from Donbas, said that in every country, discussions after elections take place and the losing side thinks it is cheated. He said that even U.S. President George W. Bush first-term victory was questioned, but the results were accepted. Nikita added that he does not understand why this is not the case now in Ukraine.