Iraq: Allawi To Meet With Sunni Opposition Leaders In Jordan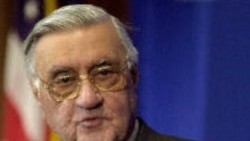 Adnan Pachachi (file photo) Interim Iraqi Prime Minister Ayad Allawi is in Jordan for meetings with Iraqi Sunni leaders, including some opposed to U.S.-led efforts to build a new Iraqi society. The talks are part of efforts to encourage Sunni Muslims to participate in elections scheduled for 30 January, in the face of calls by some leading Sunni groups for a boycott.
Prague, 1 December 2004 (RFE/RL) -- Iraqi interim Prime Minister Ayad Allawi has been vague about just who he is meeting in Jordan today.
Before he left Baghdad for Amman, he said only that he planned to meet with Iraqi Sunni leaders, but not ones believed to have taken part in attacks on U.S. or Iraqi government targets.
He said his interlocutors would include tribal leaders from the restive Anbar Province -- in the heart of the Sunni Triangle. But he called reports that he would meet with former Ba'ath Party officials an "invention by the media."
Parts of the Sunni community formed the power base of Saddam Hussein's regime, which severely repressed the Shi'a and Kurds.
That disclaimer is despite leaks from the Iraqi Foreign Ministry last week that former Ba'athists might take part in the talks. Ba'ath Party members who remain loyal to former Iraqi leader Saddam Hussein are believed to play a key role in organizing Iraq's insurgency.
So, just who is Allawi meeting in Amman?
Mustafa Alani of the Gulf Research Center in Dubai says the only certainty is that they will be Sunni leaders from inside and outside Iraq. "They must be from the Arab Sunnis, but the question is whether they represent the armed groups or not, or whether they have influence over the armed groups or not," Alani said. "We have to remember this move has come after the [government retook] control of Fallujah, and Mr. Allawi believes that it is a crucial time now to move, to have some kind of reconciliation with the Arab Sunnis after the operation in Fallujah."
News agencies report that Allawi plans a meeting with some 25 to 30 leaders today, followed by another meeting in Amman with up to 120 Iraqi Sunni leaders on 7 December. In between the meetings, Allawi is due to visit Berlin and Moscow.
Analyst Alani says the discussions will likely focus on how the Sunni community can share power in the new Iraq: "If there is to be any change in the Arab-Sunni community, it needs to be based on political promises of more participation and more power to the Arab Sunnis," Alani said. "The reason is that they think the Americans aligned themselves with the Shi'a and the Kurds and they are the loser in any deal. Now, if there are some sort of assurances coming from Mr. Allawi, it might have a different impact on the Arab Sunni's perceptions."
The meeting in Amman comes amid reports of growing reluctance among Iraq's Sunni minority to participate in the January polls. Parts of the Sunni community formed the power base of Saddam Hussein's regime, which severely repressed the Shi'a and Kurds. That history raises concerns among the Sunni of now being marginalized should the Shi'a majority take control through a democratic vote.
The January poll is to elect a transitional National Assembly to undertake the writing of Iraq's first post-Hussein constitution. The assembly also will choose a transitional government to lead the country to direct election of a representative government by the end of 2005.
The violence in the Sunni Triangle has increased markedly in recent weeks as U.S. forces have battled insurgents in Al-Fallujah as part of efforts to ensure the area is secure enough for polling. The U.S. military says 135 soldiers were killed in November, making it the second-deadliest month for American troops since U.S. forces entered Iraq last year.
In the wake of the Al-Fallujah operation, some influential Sunni organizations have called for boycotting the January vote. They include the Iraqi Islamic Party, which recently withdrew from Allawi's government in protest over Al-Fallujah, and the Muslim Clerics Association, which has never participated with the government.
Last week, 17 Iraqi political organizations -- including 10 leading political parties -- signed a petition calling for postponing the election because of ongoing violence and what they said are insufficient preparations.
The parties signing the petition included that of Adnan Pachachi, an influential Sunni secular politician. Pachachi lost a bid to become interim president of Iraq in May to fellow Sunni leader Ghazi Mashal Ajil al-Yawer.
Pachachi put the case for delaying the vote this way.
"We feel that the security situation has to improve to enable people to vote without fear and with full security and without intimidation or pressure," Pachachi said.
But Iraqi Central Election Commission head Abdul Hussein Hendawi said the government rejects that argument: "We at the Electoral Commission worked at holding the election in its time but not postponing it," Hendawi said. "We are obliged with the exact date, which is January 30, and we are working to prepare ourselves for this process. We are not talking about postponing or holding it [only] in certain areas."
Allawi's government is under strong pressure from many leaders in the Arab world to either assure Iraq's Sunnis fully participate in the 30 January vote or to hold it later.
An international conference in Sharm el-Sheikh last week -- attended by 20 foreign ministers from the region, plus Europe and the United States -- urged Allawi to undertake efforts to broaden participation in the poll. The wording is widely seen as a call to reach out to Iraqi Sunni organizations.