U.S. Consulate Attacked In Jeddah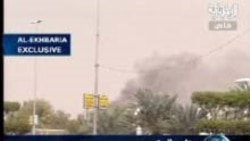 6 December 2004 -- A group of unidentified attackers today stormed the U.S. Consulate in Jeddah, Saudi Arabia, killing at least seven people.
A Saudi Interior Ministry official said the attackers threw explosives at the gate of the consulate while firing automatic weapons as they entered the heavily guarded compound.
The official said three attackers were killed and two others arrested during the fighting. Saudi security officials said four members of their forces were killed.
The Interior Ministry official said no Americans were injured.
There have been reports the attackers had seized hostages, but a Saudi statement said that "the situation was brought under control." It gave no further details.
Saudi officials have blamed the Al-Qaeda terrorist movement for a wave of violence against foreigners and security forces over the past 18 months.
(Reuters/AFP/AP/dpa)
Related stories:
Pakistan's President Says Bin Laden Trail Has Gone Cold