Georgia: Abkhazia Presidential Rivals Strike Tentative Last-Minute Deal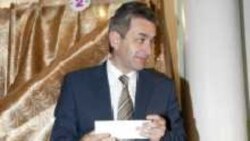 Government presidential candidate Raul Khajimba Averting the threat of an economic blockade from Russia, Abkhazia's presidential rivals announced late yesterday that they had reached an agreement that could defuse tensions in the Black Sea province. Under the deal, opposition leader Sergei Bagapsh and former prime minister Raul Khajimba are expected to run together on a joint ticket in new presidential elections. Meanwhile, reports say the situation in the Georgian separatist republic remains tense. Early today, a series of blasts shook the regional capital Sukhum.
Prague, 6 December 2004 (RFE/RL) -- The first explosion occurred in the vicinity of a Sukhumi school shortly before 7:00 a.m. It was followed by at least another two blasts 20 minutes apart.
No one claimed responsibility for the explosions, which left no injuries.
Sukhumi police chief Otar Khetsia said the incidents were aimed at destabilizing the situation hours after Abkhazia's presidential rivals agreed on a tentative compromise to defuse tensions in the Black Sea province.
Opposition contender Sergei Bagapsh and government candidate Raul Khajimba announced the agreement late yesterday after holding last-minute negotiations.
Russia's "Kommersant" daily today reported the deal was announced as preparations for armed confrontation were under way on both sides.
"There were a lot of problems and the situation was such that it very much depended on each one of us. I'm not saying that just for the sake of it. I would like to thank Raul Jumkovich [Khajimba] and all those guys that stand behind him because they eventually found the courage [to strike a compromise]." -- Sergei Bagapsh
Addressing reporters after the meeting, Khajimba expressed hope that the deal would help definitively avert the risk of political violence.
"We will do everything possible to help defuse the existing tension and be able to conduct a new election that would allow us to be and work in a single team. I believe this is the most attractive solution and that it will have a [positive] impact on our supporters, who are worried and are trying to understand what has been going on up until now. I am convinced our meeting will help defuse the tension. I believe this is a positive development and we will still have time to meet with our supporters [to explain them the new situation]," Khajimba said.
Under the deal announced yesterday, both rivals agreed to conduct new polls with Bagapsh running for president and Khajimba seeking the vice presidency.
Bagapsh said the definition of powers between the president and the vice president would be redefined so as "not to differ widely." Bagapsh welcomed the deal as a "very solid compromise."
"There were a lot of problems and the situation was such that it very much depended on each one of us. I'm not saying that just for the sake of it. I would like to thank Raul Jumkovich [Khajimba] and all those guys that stand behind him because they eventually found the courage [to strike a compromise]," Bagapsh said.
The agreement was finalized today, with both sides agreeing that the election should take place on 9 January and that their armed supporters should vacate all public buildings and leave Sukhumi within the next 24 hours.
Russian media today reported that the situation remained tense in Sukhumi despite the overnight agreement.
The RIA-Novosti news agency said some 1,200 armed supporters in uniform were picketing Khajimba's headquarters to demand that their candidate explain his motives for giving up plans to run for president. Opposition supporters also gathered in front of Bagapsh's headquarters.
RIA-Novosti said both camps had received news of the compromise with equal "mistrust."
Abkhazia has been in turmoil for the past two months, with both Khajimba and Bagapsh claiming victory in presidential elections on 3 October.
Despite a ruling by the Central Election Commission that had pronounced Bagapsh the winner, Khajimba had refused to concede defeat and accused his rival of rigging the vote. Last month, he turned down an offer to join Bagapsh's team as either prime minister or vice president.
Endorsing his protege's fraud claims and backed by Russia, outgoing President Vladislav Ardzinba had demanded that a revote be held and threatened not to step down if Bagapsh were to be sworn in.
Yesterday's tentative agreement came as a complete surprise.
Just days previously, Bagapsh had told Russia's "Vremya Novostei" daily in an interview that he had decided to cut short all negotiations pending his inauguration, scheduled for today.
However, Russia, which has been increasingly involved in the Abkhaz standoff, appears to have persuaded both rivals to resume their talks.
Russian Deputy Prosecutor-General Vladimir Kolesnikov, who arrived in Sukhumi a week ago along with Interior Ministry and election officials, mediated in yesterday's talks.
Addressing reporters today, Bagapsh thanked Kolesnikov and Russian Deputy Parliament Speaker Sergei Baburin for their mediation efforts.
"Vladimir Kolesnikov, who is here [in Sukhumi], has played a significant role. Equally important has been Sergei Nikolayevich Baburin, who met with our campaign staff and with Khajimba's campaign staff. I think their mediation efforts have been instrumental," Bagapsh said.
Baburin arrived in Sukhumi yesterday, officially to take part in Bagapsh's inauguration. Last week he had criticized a Russian government decision to suspend a direct railway link between Moscow and Sukhumi and impose trade restrictions on Abkhazia.
Among the steps that came into force on 3 December is a ban on all imports of citrus fruits from the Black Sea province. Citrus fruits are Abkhazia's main official source of revenue and the measure was threatening to seriously impact on the region's economy.
Russia had also warned it would seal its border with Abkhazia if Bagapsh were sworn in.
Moscow has maintained close political ties with Abkhazia since it helped it secede from Georgia in the early 1990s.
Most Abkhaz residents carry Russian passports and the region relies almost exclusively on Moscow for its economy.