Iraq: Shi'a Create Formidable Unified List For January Poll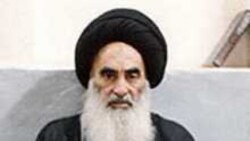 Shi'a Grand Ayatollah al-Sistani has endorsed the United Iraqi Alliance (file photo) Iraqis are due to go to the polls on 30 January to elect a new National Assembly. The National Assembly will choose a new interim government and appoint a body to write the country's first post-Saddam Hussein constitution. Ahead of the vote, hundreds of Iraqi parties are jockeying to form alliances to improve their chances of winning seats. Now, one of the biggest coalitions to date has emerged -- a United Iraqi Alliance endorsed by preeminent Sh'ia Grand Ayatollah Ali al-Sistani. Its organizers officially announced yesterday that it will field 240 candidates for the National Assembly, saying the list represents "the birth of a new, democratic, and just Iraq."
Prague, 7 December 2004 (RFE/RL) -- By any measure, the new United Iraqi Alliance has a diverse membership.
The biggest players are Iraq's two main Shi'a religious parties -- the Supreme Council For the Islamic Revolution in Iraq (SCIRI) and Al-Da'wah party. Both of those parties are currently in the government of interim Prime Minister Iyad Allawi.
But the alliance also includes representatives of radical Shi'a cleric Muqtada al-Sadr, who has led two uprisings against U.S. forces in southern Iraq. And it includes the secular Iraqi National Congress (INC) of Ahmad Chalabi, a former U.S. ally now distanced by Washington.
Those are the familiar groups represented on the list. But at least half of the list's total of 240 candidate slots will reportedly be awarded to far less well-known parties.
But while the new list looks certain to make a good showing at the polls, it is far less clear what its political program will be once it wins seats in the National Assembly.
The lesser-known figures include independent Shi'a leaders, as well as representatives of the Turkish-speaking Turkoman minority and the minority of Iraqi Kurds who are Shi'a. They also include representatives of one of Iraq's largest Sunni tribes, the Shammar, which extends from parts of the south of the country to Mosul in the north.
All that gives the alliance -- which says just over two-thirds of its candidates will be Shi'a -- a broad geographical and communal base. Announcing the new alliance yesterday, former nuclear scientist Hussein al-Shahristani -- one of the list's best-known organizers -- called it a "truly national alliance -- not a Shi'a list."
Still, if the new alliance has a national span, its biggest appeal is likely to be to the some 60 percent of Iraqis who are Shi'a. That is because the alliance was cobbled together under the auspices of a six-person committee endorsed by preeminent Shi'a Grand Ayatollah al-Sistani.
Kamran al-Karadaghi, an expert on Iraq at the Institute for War and Peace Reporting (IWPR) in London, said al-Sistani's endorsement assures large numbers of Shi'a will come out to vote for the alliance's candidates.
"Al-Sistani's endorsement will definitely play a role to ensure a large proportion of Shi'a will vote for this list. But whether that means that all Shi'a in Iraq will vote for this, that's, of course, questionable," al-Karadaghi said.
But while the new list looks certain to make a good showing at the polls, it is far less clear what its political program will be once it wins seats in the National Assembly.
A top al-Sistani representative, Hamid Khaffaf, suggested in November that the list's members are united by "respect for Islam." He said the requirements for candidates joining the list were that they "do not change the Islamic character of the Iraqi people and that they do not support any legislation opposed to Shar'ia [Islamic law]."
Such statements have created public speculation about whether the list has an Islamist agenda, such as pressing for Shar'ia or for greater clerical oversight of political affairs.
But analyst al-Karadaghi called the list too diverse to share such a platform.
"In this united list, there are a lot personalities who are really, by name, Shi'a and Islamists, but they are not fundamentalists or extreme Islamists, even among the Supreme Council [SCIRI], within the Al-Da'wah party," al-Karadaghi said. "We have also [in the alliance the secular] INC headed by Ahmad Chalabi and [there is former nuclear scientist] Hussain al-Shahristani himself, who is one of the main names in the list. You can't say that they are strictly very Islamic, and they would want immediately to establish an Islamic rule in Iraq."
Washington has previously ruled out an Islamic theocracy in Iraq and sought to balance Islamist pressures with guarantees the country can develop a secular democratic system.
Under the temporary Iraqi constitution supervised by U.S. occupation authorities earlier this year, Islam was designated a source for legislation but not the sole source. Many analysts expect the debate over the role of Islamic law in Iraq to reemerge as a major issue when the new assembly appoints a body to write the country first post-Saddam Husein constitution.
Some analysts say the alliance members -- like many coalitions forming ahead of the January vote -- might have little more in common than an urge to win seats in the National Assembly by pooling their resources. The Shi'a parties share a common interest in maximizing Shi'a representation in the assembly, while non-Shi'a groups can parlay their support of the al-Sistani-backed list into more seats than they might get otherwise.
The new alliance is widely considered to be one of the strongest candidate lists now in competition for the 30 January vote. The run-up to the poll has seen jockeying among hundreds of parties to form coalitions, as well as calls for boycotts from parts of the Sunni community.
Another likely major player in the poll is a party being formed by Iraq's Sunni Arab interim president, Ghazi Ajir al-Yawir. That party -- called The Iraqis -- groups Sunni and Shi'a figures, including several current government ministers.
Many Kurdish groups, including the two major Kurdish parties, have agreed to form a unified candidate list of their own. Jalal Talibani, head of the Patriotic Union of Kurdistan, recently called "on the people of Kurdistan to participate in the elections, as we need very single vote to obtain as many seats as possible in the Iraqi National Assembly."
But voter registration has been severely hampered by poor security conditions in many Sunni-majority areas of central Iraq. Iraq's main Sunni Muslim political party -- the Iraqi Islamic Party -- withdrew from Allawi's government in protest over the U.S.-led security operation in Al-Fallujah in November. The influential Muslim Clerics' Association has called for a boycott of the January vote, saying the election "intends to achieve the aims of the occupying authority in Iraq and the authorities cooperating with them."