Ukraine's Parliament Clears Path For Election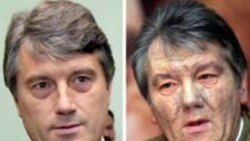 President Kuchma inks the new legislation during parliament's emergency session today 8 December 2004 -- Ukraine's parliament today adopted a package of electoral and constitutional changes in a compromise intended to defuse the country's two-week-old political crisis.
The vote came after days of political maneuvering between outgoing President Leonid Kuchma and his opponents.
A total of 402 members in Ukraine's 450-seat Verkhovna Rada voted on proposed amendments to the country's election law, which are aimed at ensuring the fairness of a repeat presidential election tentatively set for 26 December.
The changes seek to avoid the type of fraud that took place in November's disputed runoff, which prompted the Supreme Court to cancel the official victory of Prime Minister Viktor Yanukovych over opposition leader Viktor Yushchenko.
The parliament also voted to dismiss the Central Election Commission and appoint a replacement as part of the compromise.
Also today, Ukrainian lawmakers voted on constitutional reforms proposed by outgoing President Leonid Kuchma that are aimed at reducing presidential powers and transferring some of them to parliament. Reports say the constitutional changes will become effective in 2006, following the end of the current parliament's mandate.
'Mutually Appropriate'
Addressing the legislature, Verkhovna Rada speaker Volodymyr Lytvyn described the vote as an "act of consolidation and reconciliation that proves that Ukraine is united and indivisible."
"I believe we can thank the president of Ukraine because today we made a mutually appropriate decision," Lytvyn said.
Kuchma, who attended the parliamentary session, immediately signed the new bills into law.
Kuchma also said he has accepted the resignation of Prosecutor-General Hennadiy Vasiliev, an opposition demand.
The constitutional amendments give parliament expanded powers on budgetary issues. They also say that, from now on, the country's prime minister, defense minister, and foreign minister will be appointed by the legislature upon recommendations made by the president. Other cabinet ministers, who will be nominated by the prime minister, will also be appointed by the legislature.
The opposition, which is confident it will win the repeat vote, had earlier protested against proposals to alter the balance of power between the executive and the legislative branches. It claimed Kuchma and his allies were seeking to weaken the president's powers in anticipation of a Yushchenko victory.
Addressing parliament yesterday, opposition leader Yuliya Timoshchenko had called on pro-Yushchenko lawmakers to abstain from voting for any proposals to simultaneously pass the proposed election law and constitutional reforms.
Kuchma's Maneuvers
Lawmakers loyal to Kuchma, by contrast, had said they would vote on the changes to the election law only if they were passed along with the constitutional reforms. Pro-government parliamentarians were supported on this issue by their Communist and Socialist colleagues.
Meanwhile, Kuchma yesterday further antagonized the opposition by authorizing Yanukovych to take a leave of absence pending the presidential rerun.
Yushchenko's supporters have denounced the move as a ruse, saying Kuchma is eluding a key opposition demand to have Yanukovych removed from office. Ukraine's labor laws reportedly forbid laying off people who are officially on leave.
Addressing his campaign staff yesterday, Yanukovych presented himself as the candidate of a "new Ukraine" and criticized Yushchenko for symbolizing stagnation.
"Today, I can state openly that in the past two years the country has been run by two competing powers -- a new power and an old power," Yanukovych said. "Our citizens must now draw their own conclusions. Is Yanukovych the new candidate of this new power or the candidate of the old power? As for Yushchenko, I am pretty sure he is an attempt by the old power to seek revenge."
The opposition has denounced Yanukovych's attempts to distance himself from Kuchma as a trick.
(RFE/RL/news agencies)
Recent stories:
"Interpol Lifts Warrant On Ukrainian Oppositionist"
"Ukrainian Parliament Adjourns With No Decision On Vote"
Related:
"Frequently Asked Questions"
about the Ukrainian crisis
"Politicians To Watch"
as events unfold

For more RFE/RL coverage and analysis of the political crisis in Ukraine, click here.