Opposition Candidate Ahead in Romanian Presidential Race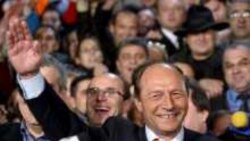 Basescu claiming victory 13 December 2004 -- Romania's election committee today confirmed that centrist opposition leader Traian Basescu was ahead in the tight presidential runoff against former communist Prime Minister Adrian Nastase.
Victor Pasca-Camenita, the spokesman for the Central Electoral Bureau (BEC), told reporters that Basescu (
Profile: Traian Basescu
) was in first place with 51.75 percent of the vote -- which represents approximately 4.8 million voters. Pasca-Camenita said the BEC counted some 92 percent of all votes cast. Nastase (
Profile: Adrian Nastase
) trails with 48.25 percent.
The new president, who is set to lead Romania into the European Union most likely in 2007, will have a difficult task in forming the new government after inconclusive parliamentary elections last month failed to give a clear majority to either side.
(Reuters/AP/AFP/Realitatea)