Residents To Start Returning To Al-Fallujah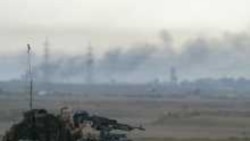 Al-Fallujah during the November assault (file photo) 21 December 2004 -- The interim Iraqi government says residents are expected to start returning as early as today to the war-devastated city of Al-Fallujah.
Interim Prime Minister Iyad Allawi's office said the first residents allowed to return will be from the western neighborhood of Andalus.
Residents from other districts will be allowed to return later, but no timetable has been given.
The interim government says returning families will be eligible for compensation of up to $10,000 for homes damaged or destroyed in last month's fighting between U.S.-led forces and insurgents.
Authorities have pledged to provide food, water, and electricity to returning families.
Al-Fallujah had a population of more than 250,000 people, but most residents fled ahead of the U.S.-led assault. Reports say there are still regular clashes in some parts of the city.
(Reuters/AP/AFP)
For more on events in Iraq, see RFE/RL's dedicated The New Iraq webpage.