Russia: Putin Defends Reforms, Condemns 'Revolutions'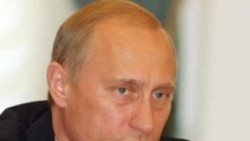 Putin aired his views on a number of topics (file photo) Prague, 23 December 2004 (RFE/RL) -- Russian President Vladimir Putin today used his annual Kremlin press conference to address many of the issues that made headlines in Russia and abroad in 2004.
Responding to questions from journalists, Putin spoke at length on topics ranging from sweeping government reforms to the recent renationalization of the oil giant Yukos.
Putin appeared at times impassioned as he sought to justify his government's policy and lashed out at what he said was Western interference in Ukraine and elsewhere. He also staunchly defended his recent political reforms.
The Russian leader said such changes -- the most controversial of which aims to centralize power by eliminating popular elections of regional governors -- were needed to ensure more efficient, less corrupt governance:
"It appears to me, taking into consideration the enormous size of the Russian Federation, the enormous number of peoples and ethnicities on our territory -- with their own ways of life, with their own political traditions -- and the unfortunately significant threat of terrorism and [national] disintegration -- that, under the current conditions, [appointing regional governors] is the best decision," Putin said.
Many observers saw a similar "centralizing" tendency in the government's year-long assault on the oil giant Yukos that led this week to the sale of the company's core oil-pumping subsidiary to the state oil company Rosneft. The purchase marks the first renationalization of the post-Soviet era, and has raised worries among Russian and foreign investors of a Kremlin clampdown on business.
Putin had long criticized Yukos as a product of the "cowboy capitalism" of the mid-1990s, when instant fortunes were made during massive privatization.
Putin said this week's auction of the Yukos subsidiary Yuganskneftegaz was an effort by the state to reclaim Russia's resources from the so-called "oligarchs" of the '90s.
"Today, the state -- using absolutely legal, market mechanisms -- is ensuring its interests. I consider this perfectly normal," Putin said.
Even as Putin defended the rise of his own government's influence, he condemned the political crisis in Ukraine, where presidential opposition candidate Viktor Yushchenko is considered the likely winner in this weekend's runoff against pro-government candidate Viktor Yanukovych.
The vote was scheduled after the Ukrainian Supreme Court threw out the results of the first runoff, citing widespread fraud. The controversy has sparked massive public protests in the Ukrainian capital, Kyiv, and has prompted criticism from the United States and other Western countries.
What worries me, first of all, are attempts to resolve political issues in an unlawful way." -- Putin
Putin -- citing Yushchenko's "Orange Revolution" and last year's "Rose Revolution" in Georgia -- said Russia and its neighbors have nothing to gain from political upheaval.
"As it concerns the entire post-Soviet area, what worries me, first of all, are attempts to resolve political issues in an unlawful way," Putin said. "This is the most dangerous thing. It is very dangerous to [attempt] to create a system of permanent revolutions."
Putin also addressed Russia's often fractious relations with its southern neighbor Georgia, which this year took steps to bring its breakaway regions of Abkhazia and South Ossetia back under central control.
Russia, which maintains close ties with Abkhazia, kept a watchful eye on Tbilisi's movement. Putin warned that Georgia should be careful to protect the rights of all residents in the breakaway region.
"We stand for the territorial integrity of Georgia, but only if the interests of all the peoples who live on this territory are observed," Putin said. "We will continue to expand relations with Georgia and we will hope that, using our influence and the friendly relations we have with the Georgian leadership [and] the traditional friendly relations with Abkhazia, this conflict will be resolved."
The Russian president accused the United States of trying to "isolate" Russia by interfering in Moscow's relations with its neighbors -- not only Ukraine, but also the breakaway Republic of Chechnya.
Still, Putin stressed the continued strong ties between Moscow and Washington, and said he was satisfied with the way bilateral relations are developing.
"The United States is one of our priority partners," Putin said. "We are unconditional partners in resolving a range of serious problems right now. First of all is the joint fight against terrorism. I would describe our relations, without exaggeration, not simply as a partnership, but as an alliance."
Putin also addressed the situation in Iraq, saying Russian businesses are eager to resume work in the still-unstable country. But, citing the ongoing unrest, the Russian leader said he was uncertain that free and fair elections could be held under current circumstances.
"As far as the Iraqi elections are concerned -- I have big doubts about whether democratic elections can be guaranteed under the full occupation of foreign troops," Putin said.
The year 2004 also saw considerable restraints put on the already dwindling independent press in Russia. But Putin praised his stance toward the media, saying journalists, like the government, are on his "team."
(compiled from wire reports)