Asia: Relief Efforts Expand, But Tsunamis Death Toll Still Rising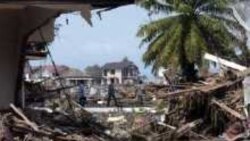 New Year's celebrations look set to be muted around the world today as the death toll of South Asia's tsunami disaster climbs toward 130,000. Aid and assistance are pouring into the Indian Ocean region in what may be the world's biggest relief effort. But health officials are warning that hundreds of thousands of people still remain at risk from injuries, disease, and lack of food and potable water.
31 December 2004 -- The hardest hit area of all may be the Aceh province on the Indonesian island of Sumatra, near the epicenter of the massive earthquake that triggered the tsunamis on 26 December.
Of the more than 120,000 estimated dead across Southeast Asia, some 80,000 have been reported in Indonesia.
Indonesian officials expect their country's death toll to pass 100,000, making it by far the hardest hit country. Sri Lanka is next with more than 28,500 people so far confirmed dead.
United Nations Secretary-General Kofi Annan yesterday called the disaster that has also displaced 5 million people "an unprecedented global catastrophe."
"We need to coordinate our efforts and pool our efforts to have maximum impact on the crisis. Everybody seems to be aware that it is going to require lots of money, lots of effort, and for a longer term," Annan said.
"Our home has been totally destroyed. Everything is gone. Please help us with anything, anything. We have nothing to eat, we cannot buy food, we've been with empty stomach for days."
So far, Annan said $500 million in aid has been pledged. And Indonesia said yesterday that it would host an international tsunami summit on 6 January to work out aid and reconstruction needs.
The tragedy looks set to be the most deadly natural disaster since an earthquake killed 250,000 people in Tangshan, China in 1976.
But the sheer scale of the devastation as well as the remoteness of badly hit locations is complicating the relief efforts.
Minah is a resident of a tiny Indonesian island off Sumtra called Nias, where nearly 230 people have died. He spoke with Reuters yesterday.
"Our home has been totally destroyed. Everything is gone. Please help us with anything, anything. We have nothing to eat, we cannot buy food, we've been with empty stomach for days -- please, sir!" Minah said.
In the devastated Aceh province, relief efforts are underway but many remote areas have yet to receive any aid.
U.S. military transport aircraft yesterday landed at Indonesia's northern city of Medan and underloaded supplies to be trucked to Aceh. But with a lack of fuel, impassable roads, and downed bridges, the trucks will take up to 16 hours to reach the battered provincial capital of Banda Aceh.
John Budd is a head of communications for UNICEF in Indonesia. He spoke of the Aceh relief efforts with reporters in Jakarta yesterday.
"What we're delivering today is about 3.8 metric tons of health care. This health care will be able to help 200,000 people in the earthquake zone with emergency health care for the next two weeks. It's designed to get them over the immediate issues they are confronted with. It'll have emergency [water] purification, chlorine, first-aid kits, antimalaria tablets, oral rehydration salts -- all the emergency helps these people need because there's nothing up there that they can actually use," Budd said.
But it had better get there quick. Experts warn that contagious diseases could quickly worsen the situation.
Robert Edelman, a professor of medicine at America's University of Maryland, said yesterday: "The worst is yet to come, I am afraid, because of the breakdown of sanitation facilities."
(compiled from wire reports)