Ukraine Supreme Court To Hear Yanukovych Appeal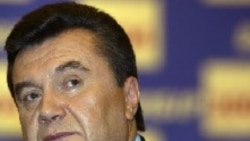 Viktor Yanukovych (file photo) 14 January 2005 -- The Ukrainian Supreme Court said today it would hear an appeal from the defeated candidate in December's repeat presidential election.
Former Prime Minister Viktor Yanukovych, who lost the election, asked the court to look into alleged evidence of election violations that his campaign teams collected.
The court said in a statement that it would start hearing the appeal on 17 January.
Mykola Tomenko, a senior aide to the announced winner of the two-man runoff on 26 December, Viktor Yushchenko, issued a statement saying, "We are witnessing a genuine show organized by the remnants of the Yanukovych team. This show is costing Ukraine dearly."
The initial runoff between Yanukovych and Yushchenko was ruled fraudulent by the Supreme Court amid massive opposition protests that ushered in what has been deemed the
"Orange Revolution."
(Reuters/ITAR-TASS)